Ahh, it's summertime again. Longer days, warm weather, and more activities to enjoy under the sun. This 2020 may be full of uncertainties and adjusting to new normal may be overwhelming, but it doesn't mean you should cancel summer because of it.
There are countless exciting outdoor activities to do alone and with the whole family. Whether you decide to do it inside the house or at the yard, it's also best to be aware of how you can properly store your outdoor summer tools for proper organization and how you can easily access it next time you used it.
In this article, we'll show you the top outdoor activities you can enjoy, at the same time, discuss with you the proper storage of outdoor summer tools for a fun and hassle-free season!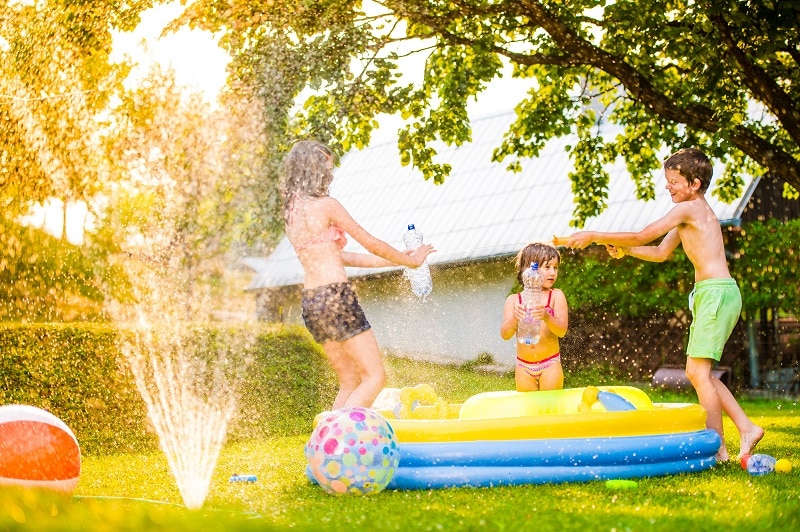 Cool Summer Activities to do in Summer
Bring out that inflatable swimming pool
Bored in the house? Try getting that inflatable swimming pool out of your garage, fill it water, and enjoy swimming under the sun. It may not be the dream beach vacation this year because of some strict quarantine rules – but hey at least you enjoy your family's company without getting out. You can try fun water games from relay races to water guns.
Have a BBQ at backyard and picnic
Guess what? You don't have to spend much to enjoy a slab of steak and juicy barbecue at restaurants. One of the best things to do this summer is having a BBQ at your backyard, complete with side salads, drinks, sandwiches, and desserts. You can also try making your own concoctions and beat the heat!
This quarantine, a lot of people have discovered a skill they should have learned ages ago – baking. If you have little ones with you, this will be a perfect time to bond with them through this cool summer activity. If this turned out successful, try selling them online.

According to anybodycanbake.com, baking is also considered as meditative as it helps in reducing depression and anxiety. Baking also stimulates all your five senses so you feel exuberant and ecstatic when you do this activity.
Set up a backyard movie theater
Summer movie nights are best enjoyed in groups. You may miss out on the retro drive-in and theaters, but with the advancement in technologies, anyone can enjoy a quality and memorable movie night at their backyard. Setup your projector, speakers, some portable screen or sheet in your preferred location, and your comfy chair or even a tent for your comfortable viewing.

Elevate the backyard movie experience and enjoy s'mores around an open fire. All you need are bamboo sticks or skewers, graham crackers, chocolate, and marshmallows.
How To Store Summer Outdoor Tools Properly
After using your inflatable pool, your grill, and other tools you used for your activities, make sure to follow the simple hacks below to extend the life of this summertime stuff.
After using the inflatable pool for example, try deep cleaning them with gentle dish detergent and dry them well afterwards. If you're going to return in to your garage, make sure there are no sharp objects nearby that could damage the pool.

Deep cleaning also applies to grilling pans after your barbecue party. Use mild dish soap and a steel brush to get rid of unnecessary and stubborn leftovers, dry them, and store properly.
You can get wheeled storage bins so they can bring it outside and leave their toys after playing. This type of bin is very helpful especially if you want to keep your house clean and tidy. Try looking for bins with a divider so your kids should where the toys are located.

Another outdoor toy bin idea would a bench with enclosed storage. It doubles as a sitting area and storage too.
Buy a bungee cord ball organizer
If your family likes to play sports like basketball, soccer, or volleyball, then you need to have a proper storage for this. Try installing a bungee cord organizer to keep them all in one place.
[caption id="attachment_111698" align="aligncenter" width="800"]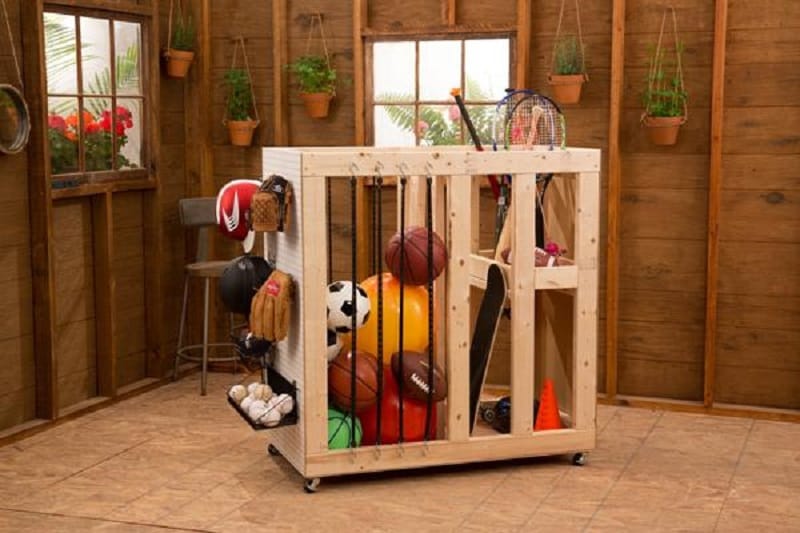 From Shanty 2 Chic[/caption]
Use an overhead garage storage
These racks from FLEXIMOUNTS will surely leave your garage storage from nay to yay. It doesn't only help you store your storage bins and other heavy tools, but you can also add some garage hooks on it for cords and bikes! With this smart garage storage tools, you area will look clean and organized, and keep tools and accessories right where you need them.