E
verybody requires some private space. That is difficult to come by in today's hectic, crowded, and the intrusive world of computers. Undoubtedly, a vacation away from home or a lodge in the mountains can provide this enjoyment. Whoever, on the other hand, can finance several each week or two? Alternatively, these carport man cave suggestions provide the same pleasure for men while being only a walking distance from the main house. It's their me-time experience for the ladies who are averse to the notion or don't comprehend its allure! As you prepare for the big Saturday athletic event, a man cave may be soothing, entertaining, and a place to entertain guests! Anyway, the very first thing we are frequently asked about is 'area.' The simplest way to get around this is to transform the carport into a fantastic man cave and make use of all that extra room! It's a cool concept that gets you out of the home with little trouble, and you will have your own little retreat at the end of every week (or on vacations) that blends luxury and solitude. Now, we're sharing a step-by-step tutorial for converting your carport into a man cave, as well as some fantastic carport man cave suggestions to get you started.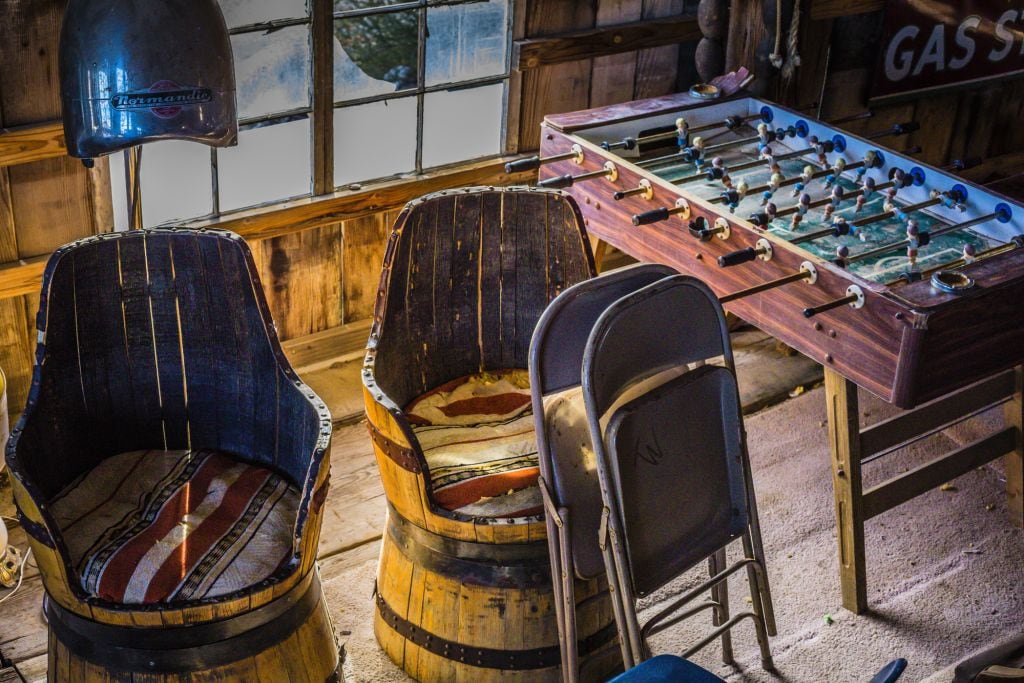 It's all about the illumination.
The man cave, like any other area in your home, benefits greatly from perfect lighting. It's much more important when transforming the carport into a bachelor pad. As most garages lack window frames and the door is tightly locked, artificial lighting is used to provide light. Combine several forms of illumination with recessed lighting to create a sturdy and equal foundation.
The Room's Theme
What kind of atmosphere would you like to create within your man cave? This is, without a doubt, the most essential issue of all, and it is entirely dependent on your own character and preferences. Perhaps you want a man cave with a ping pong table, a moody ambiance, and fluorescent sunlight that brings you closer to your local pub as an adolescent. Perhaps you want a calmer, more soothing man cave with reading and seclusion. Other people may only require a chair, video games, and lots of quiet. This decision will determine the look and feel of your man cave.
Make a list of what you'll need to connect everything in
Contemporary man caves are unmistakably distinct from their forerunners from generations past. The picture of a middle-aged guy socializing with some pals or lounging alone while downing a few pints may have lingered. Today's modern and greatest garage man cave concepts, on the other hand, are so much more technologically advanced. Prepare for all of the power outlets as well as the placement of your huge flat-screen TV, amplifier, and everything else electronic. This eliminates the need for additional cables and the subsequent discomfort of cabling.
Taking Sounds and Cladding into Account
The manner you update the carport walls has a big impact on the man cave's acoustics and cladding. Don't be afraid to invest a little here and purchase high-quality panels or build drywall on top of it all to keep the freezing cold and July heat at bay. Insulation rises to the roof and door frame, and you should fix any gaps or crevices that allow the warmth or coolness to escape. Top-of-the-line padding produces this warm and inviting man cave that will treat you well for many years, in all degrees and on all occasions.
Walls and carpeting
It should go without saying to everyone that carport walls and floors are not designed for people to survive and flourish safely within them. Begin by laying a new sub-floor over the concrete pavement on the floor. Cement may turn extremely cold in the winter and extremely hot and humid come summertime, making it unsuitable for a man cave. A good idea is to use hardwood planks or carpeting. After you've finished cleaning the floor, it's time to move on to the decorations.
Furniture and Decorative elements for your Personal Man Cave
Incorporating furnishings to the garage once it has been transformed into a pleasant, secure, and beautiful environment is the simplest and most gratifying activity. A comfortable chair is also a must, and this will serve as your own throne to rule your man cave for the upcoming years. A sofa or a sophisticated lounge chair may be used to provide a comfortable space for guests to hang out and chill. If you're after an enjoyable vacation, a minibar on the side, a cooler to keep everything you could want, and also some floor space!
Here are a few man cave essentials that you must have:
Armchair
Because not all men love watching TV or sports, an armchair is your utmost priority. A man cave may be utilized to just rest and unwind. It can also be utilized for business or customer calls that need to be made late into the evening. Furthermore, some residents have experienced going to sleep on the sofa and waking up with a sore back. This is likely to occur at least once or twice whilst chilling out in your one-of-a-kind man cave. As a consequence, a chair is the one object we absolutely should have in our garage man caves.
Television
Most family members opt to build a man cave so they'll have their own space to watch sports, the Super Bowl, or any other of the big sports events that happen throughout the year. If you want to go all out for the man cave, you'll certainly just want a big TV to make it complete. If sporting events aren't your cup of tea (or pint of beer), a huge, flat-screen TV may also be used to watch films alongside your partner and children.
More Chairs
Man caves should indeed be enjoyed among the men, therefore more seats are also a must. A huge sofa will suffice most of the time.
Final Thoughts
Wanting your own space is always a good thing. So go ahead and convert your garage into a personal man cave where you can retreat whenever you feel stressed about work or even when you just want some alone time.