T

here is much value in having a dedicated workshop at home, where you can work on your projects such as metalworking, woodworking, car and electronic repairs, and the like. The lawn or driveway has long been used as a workshop area, which is not ideal, especially when the weather is not in your favor.
And when you decide that it is about time to have a specific area you can call your own workshop, there can be hindrances that you may encounter, like limited space, lack of privacy and noise control, and budget constraints.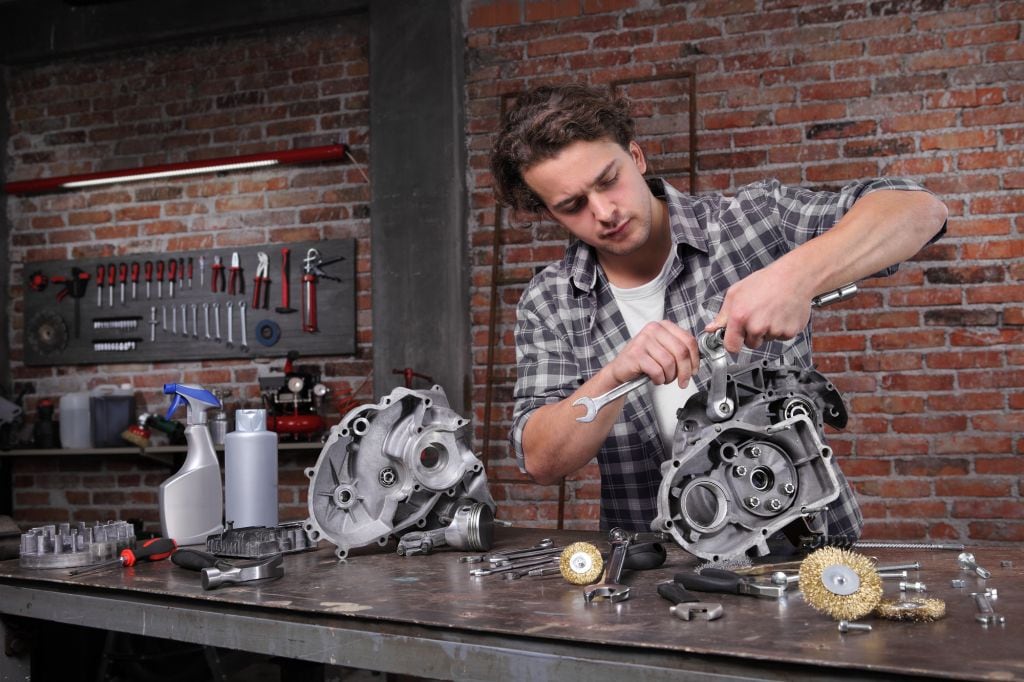 The design of your dream workshop is the answer to all those woes. By carefully planning your garage to be a versatile space that can house your workshop while also serving as a vehicle parking and storage space, then you can maximize the area and increase your home's value at the same time.
Tip #1 Invest in a reliable workbench
Workbenches are a must-have for any garage workshop, whether making repairs, finishing DIY projects, or building anything from scratch. A portable yet durable one takes the cake as You can move your workspace depending on your needs and the space available in the garage. A decent work surface may be suitable for now, but if we are thinking long term, you must pick a workbench that is scratch-free and can handle the weight and work you will do. Plus, it should be a safe workspace that allows electrical, mechanical, and other tasks.
We could not stress enough the importance of having a neat workspace. Utilizing a sturdy workbench makes your job easier and offers to maintain an organized workstation. It aids in faster completion of projects, and most of all, it secures your safety, especially when working with tools that can cause mishandled injuries.
One reliable workbench you can maximize when working is the Fleximounts WB102 Manual Height Adjustable Workbench.
There are tons of work and activities that rely on a stable worktop. Height-adjustable workbenches are heaven-sent. This product is a winner if you add flexible height to the features. The user can manually adjust the level of the frame to match the desired size. So, whether you like working either standing or sitting, you can count on this workbench.
The Fleximounts WB102 Manual Height Adjustable Workbench lets the user confidently handle any sitting or standing work with maximum efficiency. It enables you to elevate your workstation to its ideal height, with a height adjustment range of 29.5 inches to 44.1 inches. The extra-large crank handle offers smoother operation than standard cranks, so you can easily lift the desk, even with heavy loads, such as items like the computer set, toolboxes, car cleaning machine, paints, and many more. And best of all, you would never need tools to adjust the height of the table legs as is necessary for other workbenches without a crank handle.
The WB102 has a solid construction, is made of a 1.5 mm cold-roll steel frame, and holds up to 500 lbs. Its worktop table uses solid rubberwood as a surface and has desktop dimensions of 47.2 inches x 23.6 inches x 1 inch, offering plenty of space to work on.
You can also use it as a garage workbench, home office desktop, or even a sewing and crafting table.
Tip #2 Use wall storage systems
One of the easiest ways to maximize your garage space is using the walls as storage space. Since wall-mounted shelves are occupying the areas that are underutilized or not utilized at all, most of your stuff is stored off the floor, giving you more space when walking around the room and wider leeway for your vehicles to avoid scratches.
One storage you can utilize for your everyday items is the Fleximounts WRC24B Corner 2-Pack 2'x4' Wall Shelving.
The Corner 2-Pack 2' x 4' Wall Shelving maximizes the use of the corner wall to save more ceiling space. What's even better about this is that you can use it as a corner or a 2-pack wall shelf, which makes excellent sense when you want flexibility in your wall shelving.
Its one-piece integrated grid design is made for easier assembly and is more stable than others with multi-piece assembly. An installation template provided also helps mount holes and has a bubble level that helps get the perfect horizontal location. Moreover, it can be installed by one person with all the hardware included in the package.
The buckle design with Velcro prevents the brackets from falling or bending, making it more stable and sturdy. The heavy-gauge steel construction provides safety loading up to 440lbs total.
The WRC24B also makes it suitable for securing either wall studs or solid concrete walls.
Another wall storage system that can do wonders is a Slatwall storage system. The Slatwall storage systems are well-suited for keeping your work area organized because you only need hooks for hanging extension cords and hand power tools, screwdriver holders, magnetic toolbars for small hand tools for easy reach, and even small baskets or boxes to keep your small hardware pieces like nuts, screws, and bolts. The Slatwall panels are suitable for hanging tools and accessories you need for your workshop projects.
Tip #3 Protect your floor with a durable coating
The floor will be the most abused component of your garage as the vehicle is heavy, and the constant in and out will mark your floor. And when the snow comes, the particles and salt will attach to the vehicle tires, which will damage the floor when exposed to moisture and other particles.
Moreover, your big tools and materials for your workshop will affect the floor in one way or another as it will eventually show signs of wear and tear due to the activities done in the garage. So, to slow down the process and protect your floor better, make sure to add durable floor coating. The coating that you should apply must resist common household chemicals. One that has a glossy finish will not only make your floor look chic and classy, but for practical reasons, it will help you clean spills, sawdust, and other messes easier.