W

hen we enter the garage space, it does not resemble a garage we once knew of, but an utter clutter of a space we do not even want to look at. All these years of being the home's dumping ground of whatever we may think of like old kitchen items, mementos, mechanical supplies, and, really, anything that does not suit any other part of our living space automatically goes to the garage. So it comes as no surprise that the garage floor space is starting to disappear, and not even the car can be parked anymore.
The first sign that tells you that it is time to declutter and get organized is when you do not have space for your car. While this may seem a matter of factly, it is quite common. In a study by the U.S. Department of Energy, 25% of homeowners with two-car garages do not park in them at all. Or if there is actually a space for the two-car garage to hold at least one car, the remaining space for the other car is filled with clutter. If your garage has room for only one, it can be understandable not to have enough space, however, if your garage can hold more than that, then there should be enough room to park your car and store your stuff. After all, garages were invented to protect your cars from outside entities such as snowfall, UV rays, fallen branches, theft, vandalism, and more.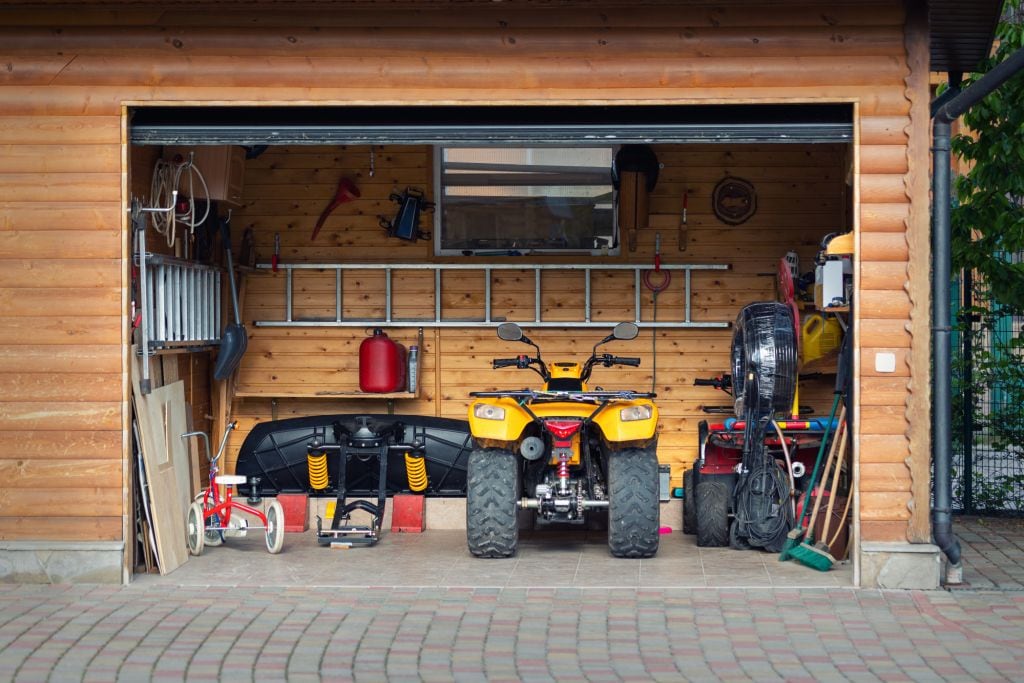 More often than not, you tend to lose your stuff among the rubbles.
You are certain that you already bought that tool you wanted to use at the moment for your project. However, you have spent more time looking for that specific tool than actually working on your project. And that screams, hey, it is time to tidy things in your space. It actually makes you feel less productive having to spend time looking for stuff that you eventually end up buying a new one. Not only is that costing you more money, but it is adding to the already many piles of tools that you own, which are just lying somewhere in the garage.
Entering the garage is giving you a massive headache.
Messy, untidy spaces are sources of stress and anxiety. The mere sight of clutter sends signals to our brain that our work is never going to be finished as it makes it harder for us to focus and keeps us distracted. Clutter also overworks our brains on stimuli that aren't necessary or important, according to Psychology Today. So, we have not even started with our projects, we already feel drained and our energy maxed out.
There is just too many floor clutter that creates safety hazards.
Aside from floor clutters limiting the garage space's functionality, it also poses high risks to your safety. Stacks of boxes are potential hazards as you do not know what is stored in them. There may be all sorts of items like power cords, yard tools, garden hoses, power tools, and more that are tripping hazards. Then there are also other items that lean on the walls like bikes and ladders. And if you are one to store combustible liquids in one of the boxes in your garage like a gas can, paint, gas-powered equipment, or other products that can cause fire, then not only is your property in danger, but also the lives of those living in the house and neighboring houses.
Storage Solution to Your Garage Woes
Quite frankly, if we would be so certain that the garage can be converted into a space-that-fits-all kind of area, there is actually a solution to that. And that is to employ effective storage solutions such as overhead garage storage that makes great use of the ceiling space.
Overhead garage storage racks are the most in-demand organization tools nowadays. Sharing your vehicle space with your things can be troublesome and chaotic. These will take up too much floor space, which should have been dedicated for your vehicles alone. Fret not because the overhead storage rack is an ideal choice to tuck away something you do not need to use regularly. Thus, leaving more space to park your cars.
Fleximounts have an offering of a variety of overhead garage storage racks. Among the bestsellers is the Fleximounts GR48-H Hooks 4′ X 8′ Overhead Garage Storage Rack. This durable and heavy-duty overhead storage system provides a safe place to organize your stuff. It also helps avoid flood damage by storing your things off the garage floor and protecting your treasured items. The overhead storage rack makes your garage look neat and gets away from insects and rodents.
The rack is made of heavy-gauge cold-rolled steel construction, which is responsible for the safe loading of up to 600 lbs. Its integrated wire grid design and frame are welded together, making the unit more sturdy and stable. Moreover, the wire grid underwent strict tests with triple load breaking strength. It is specially designed for easier assembly.
The height can be adjusted from 22" to 40", providing a convenient and safe place to store your stuff. The height-adjustable ceiling drop-down lets you customize it to your preferred height.
The ceiling brackets are designed to be attached to two joists for more flexibility and security. The rack is suitable for securing either ceiling studs or solid concrete ceilings. The screws provided are thicker than comparable products available in the market and have gone through strict tests to prove the top-quality make of the hardware.
All necessary hardware and instructions are included in the package. An installation template is also provided to help you devise a plan to store your stuff in the most efficient manner possible. Also included are three bags of screws, namely, wood screws, installation screws and bolts, and cement installation.
In the box, accessories such as four pieces of Flat Hooks (GRH1) and two pieces of Utility Hooks (GHR3) also come with the racks. The hooks are perfect accessories for you to hang lawn tools, mechanical tools, sports equipment, or bicycle units.