W

hat do you do to your bike after using it? Do you just leave it on the front porch unattended? Chances are your bike will be susceptible to damages due to weather and other outside elements or prone to stealing as it is open for everyone to see. Of course, no cyclist would ever want that to happen.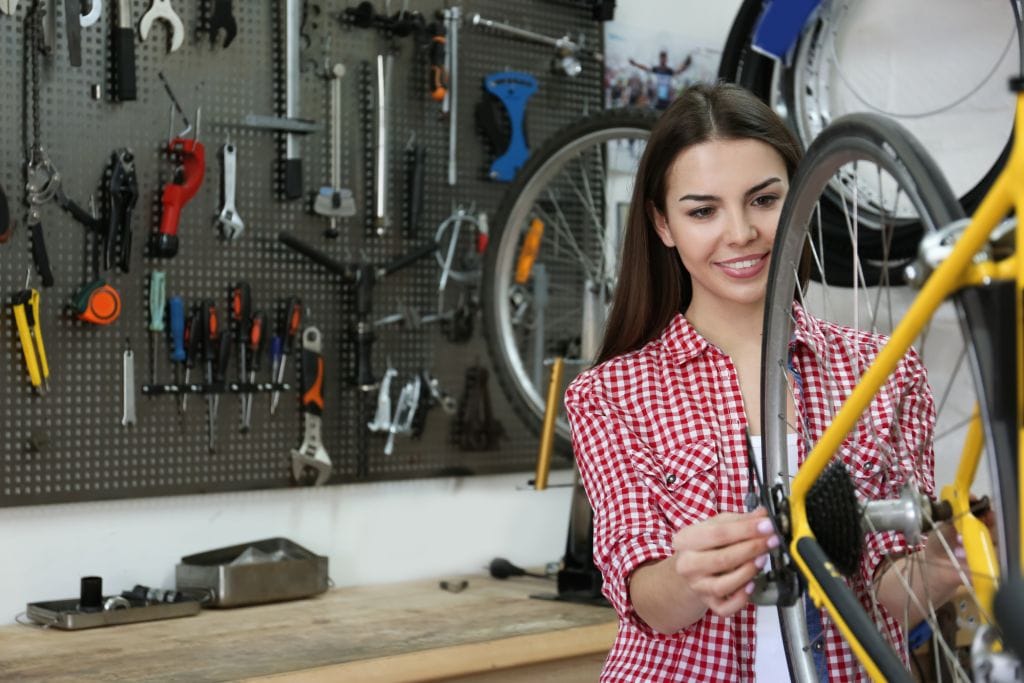 A cyclist--a responsible one at that--not only takes good care of the bike's surface, such as constant cleaning, checking of tires and brakes but also sees to it that he has proper space and way to store it. After all, you are not riding your bike 24/7.
Unless you own a folding bike, securing a place in your house wouldn't be much of a problem as it occupies little space. If not, it still is a no-brainer if you just identify what kind of storage will best fit your space. And if you own a garage, then you can say, problem solved.
One thing to take note of is the temperature in your garage. Cold temperatures or hot temperatures alone are not really damaging to your bike. The constant change from hot to cold or cold to hot causes moisture build-up that can lead to rust, components to loosen, or, worst case, crack. So when the weather is generally hot outside, and you are going to use it, make sure that the storage space is also warm. The same goes for colder seasons, have your garage set to low temperature as well.
You should avoid having the bike's tires rest flat on a bare concrete floor for long periods. The moisture that the concrete floor draws out from the rubber tires will cause dry-rotting and premature aging. If storing upright is the only choice you have, better put wood, rug, rubber mat, or carpet on your garage floor.
However, let us put this straight: bikes stacked horizontally on the floor are not a good way to store them. That is especially problematic if you have more than one bike in your arsenal. They will occupy a sizable amount of floor space and will eventually lean on another bike since a lot of the hoops only support the front tire, which in this position can scratch your bikes. Another problem that may arise is that if you have more than four bikes stacked together, you will have a hard time getting a particular unit and pulling it out when you need to ride on it.
The solution that answers these woes is to mount your bikes to the ceiling or wall. Not only is this the most space-saving alternative, but it also brings more value money-wise as it is cheaper to stack your bicycle units. Plus, it is simple to use. A word of warning for renters, you should approach and ask permission first from your landlord as this will entail drilling the walls.
Fleximounts Hanger Wall-Mounted Bike Rack BR1
Spare yourself from the trial and error of finding the right rack that is functional and fits well in your garage. A sturdy and long-lasting bike rack is not hard to find if you know where to look.
One that checks all your requirements is the Fleximounts Hanger Wall-mounted Bike Rack BR1. It is made of high-quality materials–powder-coated, cold-rolled steel, which assures durability and resists cracking, rusting, and chipping.
The bike rack model has three options, depending on the number of units you intend to hang, whether it is only one, four, or even six bikes. The latter can hold up to 136kg or 300 lbs, which is pretty impressive for a bike rack.
Moreover, the rack is undoubtedly dependable for load-bearing performance and definitely long-lasting and heavy-duty. This is good news for cyclists looking to take cycling for years as a hobby or competitive sport. And if you are into this sport, you will also be most likely to buy more bicycles that fit a particular activity like commuting, uphill cycling, triathlon, and more. All these reasons point to investing in durable and space-saving storage racks that are neatly placed in your limited space, like the garage.
The J-shaped hooks are easy to use as they fit perfectly to the curvature of your bike hubs, thus, providing a firm grip to secure the bicycles in their proper position. You need not worry about the hooks coming off the hanging bikes because each hook is mounted securely. And the good thing also is that the premium bike hooks are wrapped with dense sponge foam tubing, which prevents aging and cracking and offers better protection for your bike's wheels, hubs, and spokes.
The hooks can easily be re-positioned anywhere on the rack to suit different bicycle sizes as storage needs change. The bike wall mount hanger fits most bicycles (within 2.56-in range in diameter), including mountain bikes, road bikes, and kids bikes. But this excludes wide-tire bikes.
Easy Installation
You don't need to be a pro to install the bike mount rack. The easy-to-follow step-by-step guide is made doable for novices out there.
First, make a horizontal line and mark the mounting holes. Then drill holes and install the wall plates with tapping screws.
Second, Pass the bike rod through the left wall plate.
Third, Insert hooks from the right end of the bike rod in order.
Last, fix the left end of the rod with two screws. Then plug in the right end of the rod.
Final Thoughts
Choosing to use the Fleximounts Hanger Wall-mounted Bike Rack BR1 in your garage offers optimization of the garage storage. Subjecting your bikes in a vertical position frees up valuable floor space, which you can practically use for your vehicles or other storage items. Plus, it provides easy access to mount and dismount each bicycle unit. Alas, you can save your energy for the cycling activity of the day!
What's more is that if you choose to buy the bicycle rack and other Fleximounts products on Black Friday, you will get a 10% discount on your purchases. Make sure that the total amount reaches a minimum of $300 to avail of the promo.