Having a garden is a sure-fire way to update the look of any part of your home. Plants offer a refreshing sight and are known to reduce stress as well as boost productivity and mood.
But something is stopping you from going all out: You might be thinking that you might have a hard time growing your garden because of the changing seasons. You have a point there as harsh winter days can affect plant growth. However, there is a solution to your problem, and it's right there in your home.
Why not start a garage garden? Yes, you heard that right. You can do a simple garage conversion project and turn that extended space into a garden.
Does that sound like a plan? Then let's begin!
Checklist item no. 1: Know the available space.
Before you set up anything, consider the extra space that you have. If you have limited space, you can build a vertical garden where you hang pots on a pallet. But you can also install garage shelves where you can place your pots. Just make sure that they have a tray underneath that can collect the water to avoid making a mess.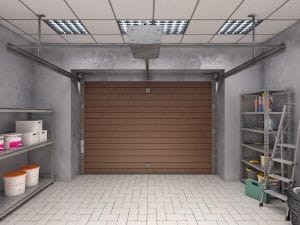 Checklist item no. 2: Does your garage have adequate sunlight or electricity?
Some plants need six hours of bright direct sunlight a day. It's best to place the pallets or garage shelves near your window. But if there is no window, you can install grow lights above the plants to encourage healthy plants.
Checklist item no. 3: Do your research on what plants or seedlings to grow
Some plants are hardier than others. Some can withstand cold and drought. The key is to do your research about the plants that you can grow in the garden. For winter growing, you can try carrots, garlic, beets, and parsnips. Ornamental plants can be cacti and succulents.
Checklist item no. 4: Creating a greenhouse effect
Keep the plants warm and moist by putting them in a mini DIY greenhouse. Just hang up some plastic sheeting on your garage shelf so that you can grow plants even in warmer temperatures.
Checklist item no. 5: Checking on the garage's temperature
But also keep an eye when the garage gets too hot or too cold -- the best way is to stabilize the temperature if necessary. Install a fan or a dehumidifier to get some air flowing and use a small space heater or heating mats to stave off cold days.
Happy gardening!
Gardening is one of the most natural ways to alleviate stress and improve your life. It can also help you to serve healthier meals to your family -- which can improve overall health.