I

sn't it funny and ironic that our garage space could not hold our vehicles anymore? While the garage is supposedly a parking space, it is now full of miscellaneous items as we have now unconsciously converted it into a repository of anything that we deem not fit anywhere else in the house. And that leaves our cars outdoors, exposed to UV, tree sap, and bird droppings. And not to mention extreme weather conditions during winter and summer.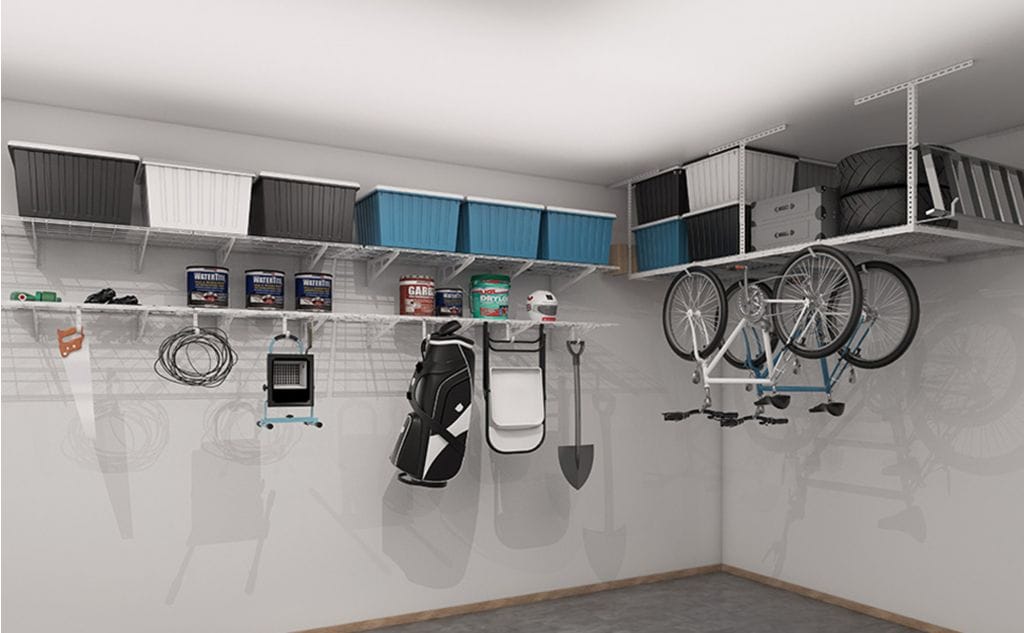 In actuality, the garage can be the best of both worlds; it is in the effective organization of your space. Here is a rundown of helpful tips to maximize your garage space.
First off, clean and declutter your garage.
All the other organization tips will be for naught if you miss this step. The very first thing to achieving a clean, organized, and spacious garage is to declutter your stuff. Set at least a full day on a weekend or holiday to clean out your garage. To make the job faster, involve your family, or perhaps, a few friends can help you out. Then go through all your boxes. Never leave anything unpacked.
Sort through your belongings and categorize them into three piles: toss, donate or sell, and keep. We know it is hard to let go of your things, especially if they hold sentimental value. But if the items are no longer of use, beyond repair, cannot be repurposed or upcycled, it is time to let go. Why not take photos as keepsakes instead? This way, you will still have a memento of that item, which would not take up too much space.
For the items that you decide to keep, categorize them according to their purpose. For example, you can write on your clear boxes or plastic bins that all the items in them are say hand tools, sports equipment, gardening tools, cleaning tools, and more. This can save you a lot of time and hassle especially when you need to take them out of the boxes to use them.
And out of all the items that merit the "keep" sign, there are still some that you cannot store in the garage such as paint, propane, paper goods, electric appliances, and pet food. The obvious reasons why these should not be placed in the garage are that these items could ignite fumes, could be ruined due to extreme cold or heat, are a magnet for roaches and bugs, and can be huge energy draining.
Design a floor plan for your garage.
The most common mistake that garage owners make is not employing space planners, which is why it comes as no surprise that most garages are unorganized no matter how many times you do a thorough cleaning. The sizes of the windows, doors, and the locations of switches and receptacles, and the space the car takes up are important things to note when designing the garage.
Other rules of thumb are also to know where to put the items in the garage, and how to group them together. Items like gardening tools and lawn chemicals should be stored close to one another as these items are often used together. The bulky items such as lawnmowers and other machines that you use in the workshop should be placed in corners so they would not get bumped or knocked over by a car. Close to the garage door, you can put the frequently used items. As for that stuff that you do not normally use regularly like holiday decorations, place them in the far end of your garage or in the hardest-to-reach spots.
Make use of vertical storage like overhead garage storage racks.
Overhead garage storage racks are the most in-demand organization tools nowadays. Sharing your vehicle space with your things can be troublesome and chaotic. These will take up too much floor space, which should have been dedicated for your vehicles alone. Fret not because the overhead storage rack is an ideal choice to tuck away items that merit a space in your garage. Keeping them off the garage floor can brighten up the space and frees up valuable floor space. Thus, leaving more space to park your cars, and foot traffic for your workshop.
Fleximounts have an offering of a variety of overhead garage storage racks. Among the bestsellers is the Fleximounts GR48-H Hooks 4′ X 8′ Overhead Garage Storage Rack. This durable and heavy-duty overhead storage system provides a safe place to organize your stuff. It also helps avoid flood damage by storing your things off the garage floor and protecting your treasured items. The overhead storage rack makes your garage look neat and gets away from insects and rodents.
The rack is made of heavy-gauge cold-rolled steel construction, which is responsible for the safe loading of up to 600 lbs. Its integrated wire grid design and frame are welded together, making the unit more sturdy and stable. Moreover, the wire grid underwent strict tests with triple load breaking strength. It is specially designed for easier assembly.
The height can be adjusted from 22 inches to 40 inches, providing a convenient and safe place to store your stuff. The height-adjustable ceiling drop-down lets you customize it to your preferred height.
The ceiling brackets are designed to be attached to two joists for more flexibility and security. The rack is suitable for securing to either ceiling studs or solid concrete ceilings. The screws provided are thicker than comparable products available in the market and have gone through strict tests to prove the top-quality make of the hardware.
All necessary hardware and instructions are included in the package. An installation template is also provided to help you devise a plan to store your stuff in the most efficient manner possible. Also included are three bags of screws, namely, wood screws, installation screws and bolts, and cement installation.
In the box, accessories such as four pieces Flat Hooks (GRH1) and two pieces Utility Hooks (GHR3) also come with the racks. The hooks can house long items to keep them off the floor such as garden tools, sports gear, and the like.