W

hat is a garage workshop without a workbench? For many of us, we all started with acquiring a wooden table that we think can handle the amount of work that we do. Or most of the time, we use the good ol' floor for activities and materials that are deemed on the heavier side. However, as time passes, we realize the importance of investing in dependable and sturdy workbenches. Not only will they be functional for a long time, but also aid in maintaining our posture when working. We may not see the effects now, but in due time, we would develop illnesses because of our unhealthy ways.
Workbenches are a must-have for any garage workshop, whether making repairs, finishing DIY projects, building anything from scratch. A decent work surface may be good for now, but if we are thinking long term, then you must pick a workbench that is scratch-free and can handle the weight and work that you will do. Plus, it should be a safe workspace that allows electrical, mechanical, and other tasks. A portable yet durable one takes the cake as your workspace can be moved depending on your needs and the space available in the garage.
The workbench is at the center of the workshop operation as it aids in the efficient and safe production of whatever projects that you are working on. And when you are in the middle of working, there are always some dangers that are waiting to happen, especially if you are using tools that you may mishandle (but we all hope not). Utilizing a workbench can minimize the risk as it offers an organized workstation. Many of the workbenches offer built-in storage solutions so that the tools and equipment are stored neatly and securely. A workbench with an ergonomic design also protects the user from getting strain-related injuries. Remember that the tools and materials you often use are heavy so it can get uncomfortable if you try to lift them, and have you bend over while carrying them at an unsafe height. In this kind of situation, a workbench that is height adjustable will be most effective to use.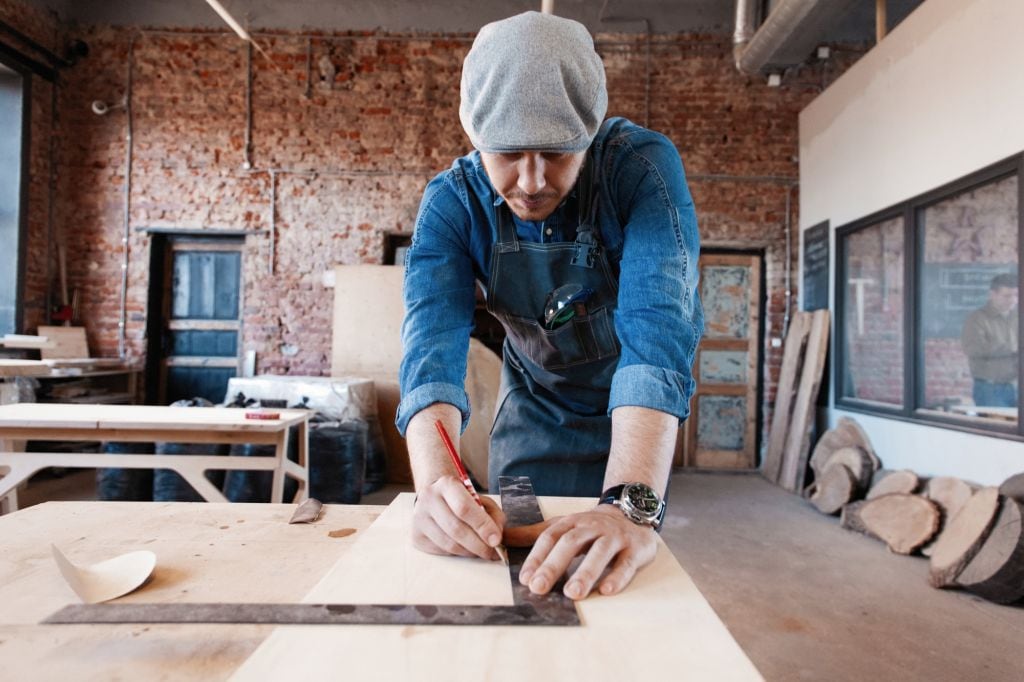 If you want to learn more about the workbenches that will suit your needs, read on below for the Fleximounts offering that you can take advantage of.
Fleximounts WB102 Manual Height Adjustable Workbench
The price is $398.99.
Enter the code NEW60 to avail of a $60 discount.
Height-adjustable workbenches are heaven-sent. There are tons of work and activities that rely on a stable worktop. If you add flexible height to the features, this product is a winner. The user can manually adjust the level of the frame to match the desired size. So, whether you like working either standing or sitting, you can count on this workbench.
The Fleximounts WB102 Manual Height Adjustable Workbench lets the user confidently handle any sitting or standing work with maximum efficiency. It enables you to elevate your workstation to its ideal height, with a height adjustment range of 29.5 inches to 44.1 inches. The extra-large crank handle offers smoother operation than standard cranks, so you can easily lift the desk, even with heavy loads, such as items like the computer set, toolboxes, car cleaning machine, paints, and many more. And best of all, you would never need tools to adjust the height of the table legs as is necessary for other workbenches without a crank handle.
The WB102 has a solid construction, is made of a 1.5 mm cold-roll steel frame, and holds up to 500 lbs. Its worktop table uses solid rubberwood as a surface and has desktop dimensions of 47.2 inches x 23.6 inches x 1 inch, which offers plenty of space to work on.
You can also use it as a garage workbench, home office desktop, or even sewing and crafting table.
Fleximounts WB201 Durable Workbench with Built-in Drawer
The price is $259.99.
Designed with high-quality craftsmanship, the durable frame of this workbench is made of cold-roll steel. It has a convenient built-in storage drawer that is embedded in the worktop. The pull-out drawer provides seamlessly integrated storage space for your workshop supplies. The modern design blends in perfectly while keeping your belongings out of sight and neatly put away.
The work surface is free of scratches and chips due to its material. It is made of 1-in thick rubber wood that is sealed with varnish. As it is understandable that garage workshops tend to be on the heavier side of activity, and the materials and tools used are mostly made of metals and carry heavy weight, protecting the worktop is a feature that is made especially to last the wear and tear of things.
Garages, oftentimes, have uneven flooring. So, to be able to enjoy a stable work surface, the workbench has adjustable feet to make it easy to level the workbench as deemed fit.
The WB201 is an all-purpose workstation that is suitable for many purposes–both commercial and personal. It is fit for use in your home space, garage, warehouse, mailroom, basement, workshop, or office.
Fleximounts Customizable Workbench Shelving Frame WB107
The price is $89.99 to $94.99.
This workbench is made of heavy-duty steel, making it possible to store twice the storage than traditional workbenches. Its iron-made workbench legs last for years. Plus, it has top-quality stainless steel screws. The workbench has a loading capacity of up to 100 lbs per shelf.
The WB107 can be customizable to suit your taste, and you can stain, paint or finish the wood as desired. The maximum dimension of the workbench is 96 inches in length, 48 inches in width, and adjustable in height. The workbench is flexible enough to be used for multiple uses for the garage, such as assembling tables, potting benches, or even as a study desk for home.
2022 New Year Sale
If you are already set on what to get as your workbench or workbenches (more than one workbench is definitely acceptable as there can never be too many projects that needed a quality worktop), checkout now so you can get to enjoy a 10% discount when your bill reaches an amount of over $300 per transaction.