I

n this day and age, we know that garages can be used for multiple things. Gone are the years that the garage is only used for storing cars. Now you can use your garage as an events place. You can arrange it in a way that you could accommodate guests for a unique and intimate gathering. You can also use your garage as a fitness gym. You can store your weights inside the garage, roll up the garage door and lift weights inside the garage while also getting some much-needed Vitamin D. You can also use your garage as a workshop space. You can do woodwork projects, arts and crafts, or make sculptures and pottery inside the garage. You can also use the garage space as a business hub or a open dance area. Other than that, of course the garage can be used as a storage space not only for your car, but also for athletic gear, yard tools, power tools, lawn equipment, griller, and many other possessions you don't need to be accessible in your main house.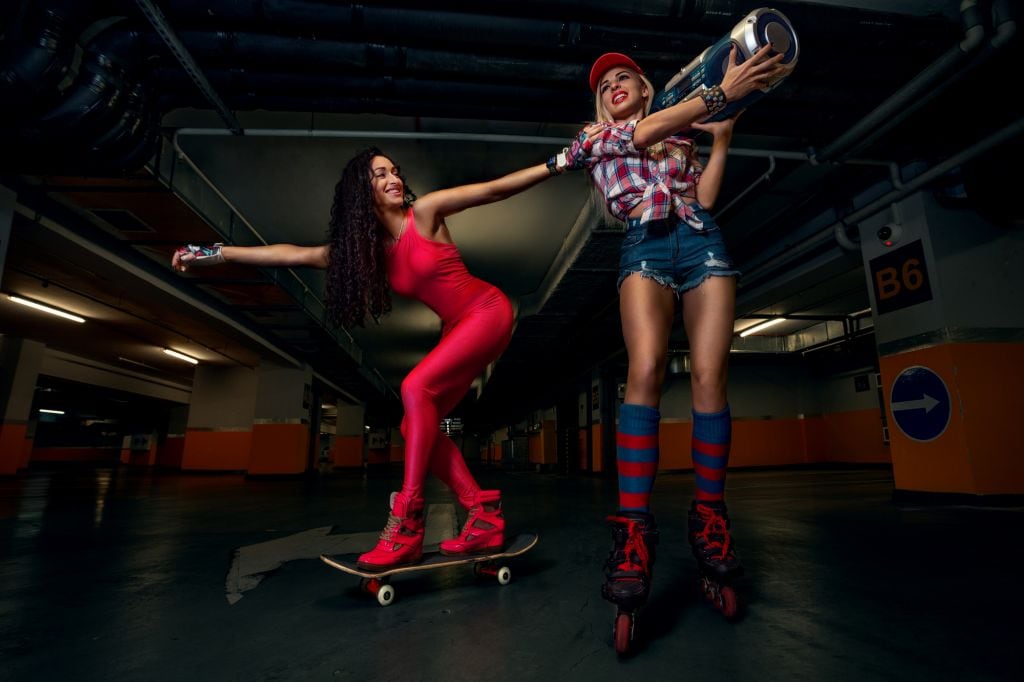 Again, because the garage is a free space, you can practically use it for anything. One hobby that will be safe to try indoors, especially if the weather doesn't permit for you to do it outside, is rollerskating. Maybe your kids love their rollerblades but it's winter outside and they can't really use it for the whole season. When COVID-19 hit, families were instructed to stay at home, especially the kids who can't be vaccinated just yet. There are many outdoor elements you can't control but you sure can make use of the garage as an indoor skating rink for yourself and the kids. Here are what you have to add to your garage space to ensure that everyone is safe skating indoors.
Better Lighting
Most of the time, the garage is dark so if you're planning on using it as a practice skating rink, you better improve the lighting of the space. We don't want our young skaters not seeing clearly what they are skating on or skating ahead to. Use better overhead lighting so that the kids would be more mindful of their environment while skating. If you want it to be more fun, you can use smart bulbs with changing colors that will give your garage space that roller skating vibe.
Padded Wall Corners and Sides
A safety precaution when learning how to skate is knowing how to stop. When something goes out of hand, the kids should know how they could make their skates stop. Remember that even the world's best skaters sometimes have trouble when their skates are out of control so your kids are no exception to this possible hazard. When it does happen, God forbid, you should be ready to minimize the gravity of injuries. Even the best skaters have moments in which they go out of control, and your goal always needs to be to minimize injuries. The walls of your garage should be padded, thick mats or foam pads, so that when the kids' skating go whack, they'd still be safe and would have painless falls and bumps. If there would be injuries, they would most likely just be minor because you were able to prepare for it.
Coating of the Floor
Garages have holes and cracks on the floor. They are not as smooth as the flooring inside your house. This is dangerous for the kids so you must make sure that they could on a surface that is mostly flat. Before you even let your kids skate in the garage, you should check if these imperfections are present in your garage floor. Any sign of which should be coated with garage floor epoxy. Let it dry and make sure it's already hardened when the kids start to skate. It will ensure safety and make your garage a go-to space for skating. Just make sure to always check from time to time if there are any cracks or holes in the floor.
Areas for Resting
Kids, even though they have high energy, get tired as well. In your garage slash skating rink as of the moment, you must be able to put in areas for rest. A simple bench will do so that the can sit on it for a while and take a breath. It should be safe from any hazards so a brilliant idea would be to build these benches onto your wall. It saves you space and makes the benches sturdier. But if you can't afford to so, just put removable chairs and benches so that they can rest anytime they need to.
Smart Storage Solutions
You must make good use of your garage's space. Since it's not only used as a skating rink but also as a storage area for your vehicle and other possessions, you can maximize the space by installing ceiling racks or wall shelves. As the names indicate, these will make use of your ceiling and wall space as a storage area. Items will be off the floor and free for you to use the garage as a skating rink. Your car for the meantime can be parked in the driveway. You can also easily organize your possessions using racks from FlexiMounts.
Product we Recommend:
Price: $79- $369.98
Things stored in the garage are usually big and heavy, which requires heavy-duty storage equipment. This product has a weight capacity of 200 to 400 pounds in total. It is of high-grade powder-coated steel that guarantees stability and security of anything you store inside of it.
When this arrives at your house, all hardware would be included in the package including a manual to guide you installing this storage option. The design is signature of FlexiMounts: a buckle design that comes with velcros to avoid anything from falling. It has undergone strict quality tests so you can be assured that it's made of top durable material. Buy this if you have wood studs and a concrete wall.
It's currently on a 15% discount when you buy until May 1 using the code, 7DD15.