W

e've said it time and again—it's no surprise that the garage is often neglected. If you think about it, it's ironic because the garage is home to the most expensive equipment you own including your cars, power and utility tools, camping gear, sports set, bikes, lawn equipment, and other prized belongings. Even then, the design of the garage looks underwhelming. There are areas with unfinished plywood and studs, drywall is taped, and the floor is left undone.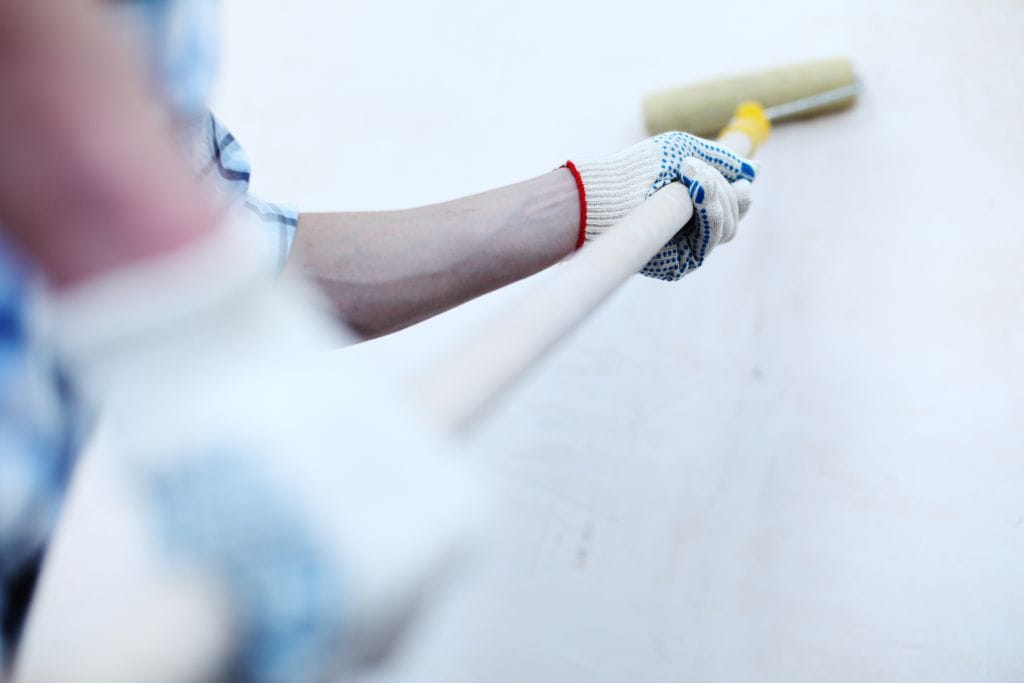 Some might not give the effort because they think it will take so much of their time. This is far from the truth because it won't really require a drastic change for you to want to spend more time in the garage. You could transform the functional space in an instant by simply painting it.
Before diving into the painting job, you have to prepare the garage walls first to yield better results.
The first is to put down everything that is hanging on the walls and move your possessions away from the walls. Determine what area you'll paint and cover the walls that you wouldn't.
The second is that you have to make sure that ventilation is proper for painting. Painting has fumes that may cause health hazards if you breathe in them for too long so before beginning your painting project, check the ventilation first.
The third is to clean the walls. Garage walls are most likely to be dirtier than the rest of your house. If left neglected for months, it won't be a surprise if you find cobwebs, dust, dirt, oil stains, and water damage that have accumulated on the walls. Clean all of these first because you don't want the stains to bleed through your fresh coat of paint.
It's recommended to clean it with a Shop-Vac or broom then wash it with water and dish soap.
Once dried, the fourth step is to prepare the surface, depending on the wall material. You may have to do extra work for walls that are not sheetrocked before they're ready for painting.
Garage Smart suggests filling in chips, dents, and holes with drywall compounds before sanding them. If you have a brick wall, pick up a wire brush and borax. If concrete, fill the spotted cracks before cleaning the surface.
The fifth step to prepare the garage wall for painting is applying the primer. Again, this depends on the wall you're going to paint. If it's unpainted drywall, you need to look for a surface drywall primer, or PVA primer (polyvinyl acetate). The latter helps in ensuring that the paint will last and it also seals the pores in sheetrock. You need to prime because there is a tendency that the paint will soak into the sheetrock if not.
From the start, pick the best primer because it will save you time and cost.
If your garage walls are painted with latex paint, then breathe because you don't have to prime anymore unless you're going to work with a dark color. For stained areas, use an oil-based primer and leave to dry.
Once your walls are protected, cleaned, and primed, then it's time to take the rolls out and paint.
For the best results, we listed down some painting tips:
1. When scheduling a painting job, you must be aware of the temperature.
If you live in an area with freezing cold conditions, then painting your garage is better to put off for the spring season. If it's extremely hot in your area, then go for a different season. Consider this along with the minimum and maximum temperatures for each paint you'll be using. The temperature outside of your garage has an effect on the curing process of the paint which is why you should be mindful of it.
2. Apply multiple coats.
To get the finish that you want, don't hesitate to add layers of paint until satisfied. Just make sure that you will dry the current coat first before adding another layer.
3. Use the best paint that will depend on the material of your wall, ceiling, and floor.
For garage walls and ceilings, use interior latex paint which is quick-drying, water-based, and has a softer odor than paint that is oil-based. The latter takes a long time to dry and has a stronger smell.
Use paints from durable interior brands because these are relatively safe options to paint your garage with. Exterior paints may just be harmful to use for interior spaces.
For garage floors, use paint that could be used with cement because the floors are usually sealed with an epoxy-type coating.
4. Choose the best color for a garage wall.
People use white paint for their garages to brighten the space, but doing so, will make it more exposed to dirt. Dark colors, on the other hand, will make the garage look smaller.
According to Garage Smart, the perfect colors for the garage walls are in between white and dark. Take into account the color of your garage door as well. Grey, Tan, Beige, and Neutral blues and greens are the usual colors of choice by homeowners.
5. Prepare your tools beforehand.
Save yourself the hassle on painting job day by making sure you have with you all the essential supplies. Before you become too busy to contact, sit down first and use this list to make sure you have everything you need for the project's success.
There are some suggested items for your painting job: Shop-Vac or broom, Rags, Dropcloth, Painter's tape, Bucket, Soapy water, Paint roller with extendable handle, Paint tray, Edging brush, drywall compound, putty knife, drywall primer, and the latex interior paint
Organizing Your Newly-Painted Garage
Once your painting job is a check, make your garage look even more pleasing to the eyes with FlexiMounts garage solutions. The brand offers overhead racks, wall shelves, workbenches, utility hooks, and bike racks for your prized belongings to be stored in the garage.
When it's all dry and the storage solutions are installed, then it's just time to put everything back in its place before you start painting.