T

hey say, when you have a tidy house, you will lead a happy life. A disorganized environment messes with our brain, and more so, with our perceived feelings. Clutter increases our anxiety levels, makes us lose our ability to focus, and affects our sleep. Thus, it makes us less productive and negatively triggers our emotions, behaviors, and relationships with others.
The distraction that clutter brings can reduce our working memory. Imagine working on an important project or workshop in your garage, but you cannot entirely focus on the activity at hand because your eyes get distracted by the mess in your working space. No matter how much you want to finish a task, but if there is clutter that you see, your brain naturally focuses on the mess instead. Our brains work best when there is order.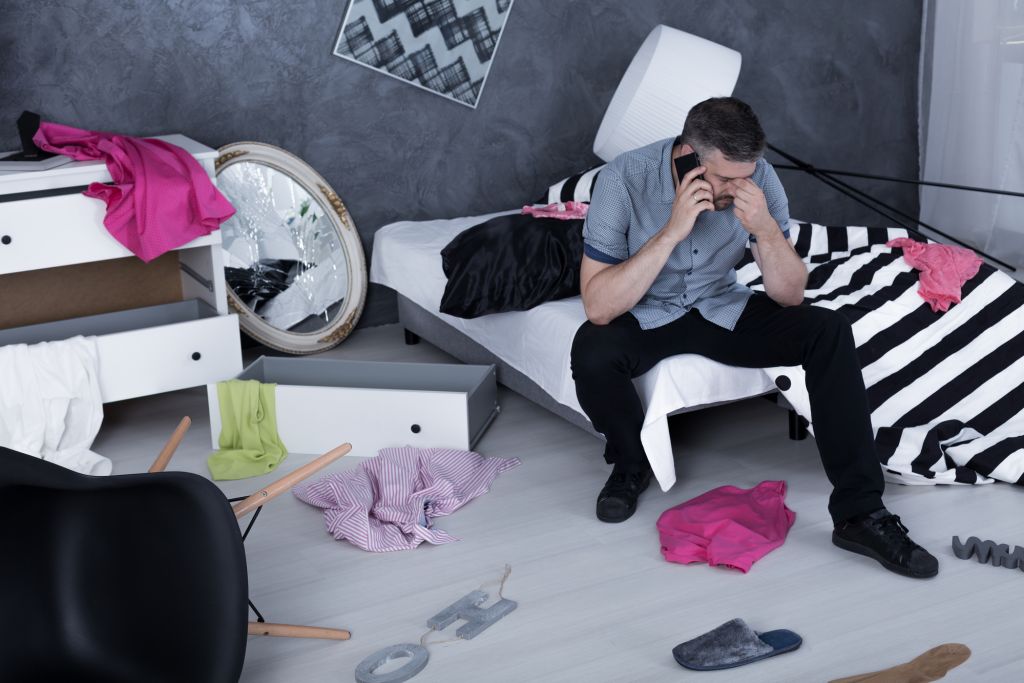 In fact, a study conducted in 2011 by neuroscience researchers shows that decluttering the home and work environment makes us focus better and process information easier, resulting in increased productivity.
Another research first published in 2009, "No Place Like Home: Home Tours Correlate With Daily Patterns of Mood and Cortisol," whose main subjects were mothers, showed that the women who have more cluttered homes had higher levels of the stress hormone cortisol. They had an increased depressed mood over the course of the day.
When you have higher stress levels, it can affect your physical and psychological conditions. We become more prone to illnesses such as type 2 diabetes, heart diseases, and mental instability. Moreover, it can significantly affect our relationships because we are unable to interpret emotions and expressions correctly. Sleeping at night can become troublesome as we cannot let go of the disturbances and stresses incurred over time.
Obesity or overweight problems are also linked to a cluttered environment. In the study, "Clutter, Chaos, and Overconsumption: The Role of Mind-Set in Stressful and Chaotic Food Environments," 101 female undergraduate students participated under standard kitchen conditions or in chaotic kitchen conditions. The subjects exposed to the latter condition consumed more cookies than those in the in-control mindset condition. The study also adds that "although a chaotic environment can create a vulnerability to making unhealthy food choices, one's mindset in that environment can either trigger or buffer against that vulnerability."
And in a 2014 research that studies the link between hoarding and various psychiatric conditions, including obesity, "Hoarding and Eating Pathology: The Mediating Role of Emotion Regulation," it revealed that "hoarding severity was associated with increased body mass index and symptoms of binge eating." It also talks about how we find it difficult to regulate emotions due to the association between hoarding and eating concerns. An outstanding 77% of people with highly cluttered homes are more likely to be overweight.
An Indiana University study links having tidier homes to having fitter bodies. "If you spend your day dusting, cleaning, doing laundry, you're active," said Nicole Keith, associate professor in the Department of Physical Education at Indiana University-Purdue University Indianapolis. "This will form interventions. They won't take 30 minutes to go for a walk, but they'll take 30 minutes to clean."
With all the studies and research involving the relationship between cluttered spaces and overall well-being, they solidify the need to get organized and declutter your homes and work environment. Indeed, decluttering changes lives for the better.
Storage systems that aid in decluttering spaces
Various storage systems cater to your needs. However, only a few live up to the marketed claims of providing safety and sturdy handling of your valuable items. One brand that is definitely worth flexing is Fleximounts. Below are a few of the racks that one can utilize to achieve a clutter-free space.
Fleximounts Hanger Wall Mounted Bike Rack BR1
The wall mount bike rack is made of high-quality materials. It is created from powder-coated, cold-rolled steel for durability, which resists rusting, chipping, and cracking. The racks available can hold one bike, four bikes, or six bikes. It can hold up to 300 lbs or 136 kg for the 6-bike rack. They are heavy-duty and long-lasting that can withstand years, and are dependable for load-bearing performance. This is especially good for cyclists who will take this lifestyle for a very long time. And of course, as you venture into cycling, a high chance would be to buy more bicycles that fit a particular activity. So this could mean the need for more storage space and durable storage racks.
The J-shaped hooks are easy to use as they fit perfectly to the curvature of your bike hubs, thus, providing a firm grip to secure the bicycles in their proper position. You need not worry about the hooks coming off the hanging bikes because each hook is mounted securely. And the good thing also is that the premium bike hooks are wrapped with thick sponge foam tubing, which prevents aging and cracking and offers better protection for your bike's wheels, hubs, and spokes.
The hooks can easily be re-positioned anywhere on the rack to suit different bicycle sizes as storage needs change. The bike wall mount hanger fits most bicycles (within 2.56-in range in diameter), including mountain bikes, road bikes, and kids bikes. But this excludes wide-tire bikes.
Fleximounts Lift 4'x4' Overhead Garage Storage Rack GL44B
This ceiling storage lift can be raised and lowered by crank or power drill, which lets you access with ease all the materials stored high above the garage floor without using a ladder. This mechanism allows you to protect yourself from potential accidents brought about by climbing a ladder or heavy lifting. You need not worry about the storage lift loosening when not in use because it has a specially designed safety lock that prevents any movement. And it is so simple to use. Just use the winding pole to pull out the safety lock on the gearbox, then push back in to lock after use. Also, its construction is built to last with heavy gauge steel, premium hardware, and top-quality parts and can carry up to 300lbs. Moreover, it is compatible with different ceiling joists of both wood and concrete ceilings and has adjustable length steel cable, which allows it to be installed on angled ceilings.
Fleximounts Adjustable 3-Tier Wall Shelving WS14B/WS13B
For your everyday items, the Adjustable 3-Tier Wall Shelving is the perfect additional storage space for your walls. Its powder-coated steel assures sturdiness. Likewise, the heavy-gauge construction provides safety loading of up to 100 lbs per shelf.
The screws provided are thicker in size compared to other shelves in the market. An excellent feature this wall-mounted shelf offers is that it is flexible enough to be adjusted depending on the height of your wall and according to your needs.
The WS14B/WS13B allows you to assemble and disassemble it conveniently because of the patent tool-free adjustment design. Another selling point of this shelf is that installing can be a one-person activity. The installation template that helps mount holes and the bubble level that helps get perfect horizontal location is already provided.
The wall shelving is compatible with either concrete or wood walls as well as it is suitable for securing either solid concrete ceiling or ceiling studs.