B
iking is a fun way to exercise that people have been hooked on for a long time. Having your own bike can be a pain though since its build can be a hindrance to any garage space. While you may have an idea on how to keep your bikes out of the way,
FlexiMounts
can make the equation easier for you! With these two bike racks, you are assured of a tidier garage that is easy on the eyes!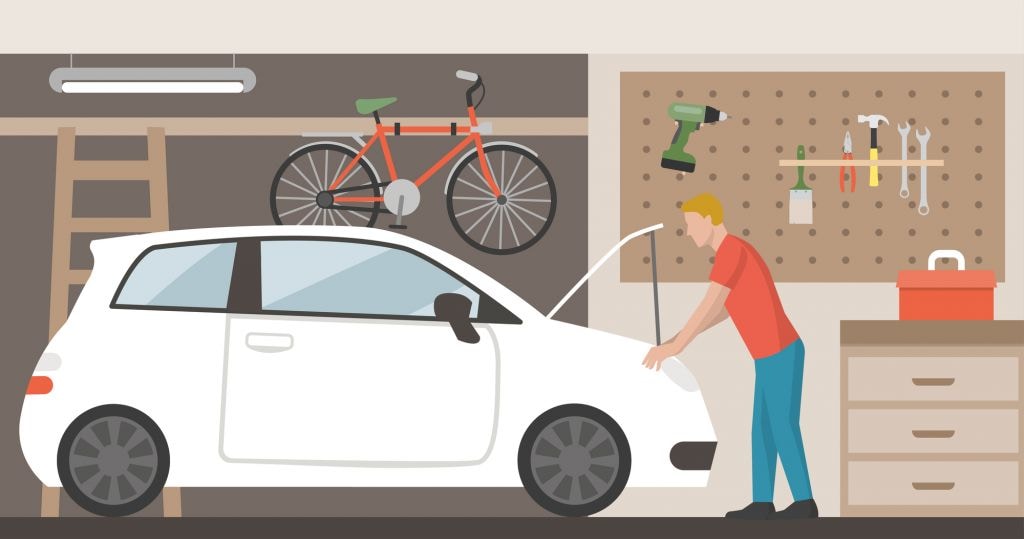 BR1 WALL MOUNT BIKE RACK
Keep your bikes secured and out of the way with the BR1! The Fleximounts bike storage rack will help you make the most of your garage space while also decluttering it. The rack is made of power-coated cold-rolled steel and will provide years of reliable load-bearing service. The hooks may be re-positioned anywhere to accommodate different bicycle sizes as needed, and the installation is suitable with all stud spacing. Fleximounts bike racks help you get your bikes off the floor. Sponge-Coated Hooks & Reinvented J-Hooks The redesigned J-Hooks perfectly suit the curvature of bicycle hubs and give a tight hold to keep bikes in place. Furthermore, the hooks are covered in strong sponge foam to resist aging and cracking while also providing improved bike protection. Cold-rolled steel with a powder coating provides years of reliable load-bearing performance. Installation Process:
Step 1: Draw a horizontal line and label the mounting holes with it. Drill holes in the wall plates and secure them with tapping screws.
Step 2: Insert the bicycle rod into the left wall plate.
Step 3: Starting at the right end of the bike rod, insert hooks in the correct order.
Step 4: 2 screws are used to secure the rod's left end. Connect the end of the rod to the socket.
BHR4 BIKE HITCH RACK
Take your bike anywhere with the BHR4 BIKE HITCH RACK! When not in use, the arms of the rack can easily be folded. Even if the arms are fitted in your vehicle, they will not get in the way. The body of the rack may move up, down, forward, and backward. The actions make it easier to lift bikes. With the anti-wobble knob, the rack returns to its previous position. The bike rack is composed of steel with a protective powder paint finish, making it a long-lasting piece of equipment. Its anti-wobble knobs help to keep the mainmast and folding arms together. This indicates that the bike rack may be attached firmly or securely. Installation Process:
Step 1: Chassis Installation
Connect the rectangular tube 1 to the towing hitch with the hexagonal bolt (J).
Insert M12 bolt (A), M12 flat washer (B), and M12 nut (C) into the lower hole of left triangle plate 2 and right triangle plate 3 to connect them to the rectangular tube
Tighten all of the nuts with wrenches (I).
Step 2: Installing the Lifting Column
Place the M12 bolt (A), M12 flat washer (B), and M12 nut (C) in the rectangular lifting column's lower holes. 4. Place the flash washer's end upward in the centre holes of both triangle plates 2&3.
Insert the M12 bolt (A) into the triangular plates 2&3's hypotenuse holes. Fix it between the triangular plates with the rubber washer (G).
Place the safety pin (H) in the upper hole of the lifting column 4's lower end as well as the upper hole of the triangular plates 2&3.
Tighten all of the nuts with wrenches (I).
Step 3: Installing U-Type Tubes
Insert the M10 bolt (D), M10 flat washer (E), and M10 nut (F) into holes with a flat washer to secure the U-type tube 5 to the rectangular lifting column 4.
Use the safety pin (H) to secure the upper holes.
Tighten all of the nuts with wrenches (I).
My girlfriend and I both enjoy cycling and were seeking a good bike rack. Other firms' bike racks are so expensive that we're delighted FlexiMounts offers them for customers who want to spend their money on more essential matters. The hooks are quite strong - I doubt they'll ever break or deform – and they're quite easy to install! I'm hoping they'll introduce more sizes and colors to accommodate larger tires — it's difficult to put our road bike wheels in these, and I feel roadway tires would fit much better. A fantastically designed product! Two of my bikes were easily held by the adjustable straps. I like how the rack's body can swing in different directions to make lifting bikes easier. I would recommend it to anyone who owns a car with a hitch. I've been carrying it with me on hikes. - Jackson R. When I bought BHR4, I discovered that it is a fantastic product because it made it easy for me to hoist my bike because the rack could move downward, up, and backward. I'd say its mainmast is quite tiltable, so even with a large bike, you won't have to worry about it breaking. It was quite steady during trip and didn't shake. The motorcycles were securely mounted and held. This is also a small package. It arrived swiftly and was quite simple to put together and install. Its heavy-duty construction, as well as the thick layer of powder coating, are pleasing to me. - Blair V.
Final Thoughts
Having your own bike is a great way to explore the outdoors while getting serious exercise as you pedal your way around. While having a bike is great, it can be tedious to organize and carry around. Thanks to FlexiMounts, you are guaranteed to have an organized garage that actually caters to your hobby.