G

one are the dark days that home garages are neglected. In this day and age of remote work, the garage space has breathed new meaning into the lives of people stuck at home. With nothing much to do, the once-forgotten area is now a playground for a lot of homeowners looking to start a new hobby or introduce a family activity to the household.
Some have transformed their garages into a workshop; some into a fitness gym; others into storage space of sorts; and a few into an events place. It's no surprise that more people are now investing in the paint, flooring, temperature, and storage solutions installed in their garages.
Once revamped, there won't be any need to hide what the garage looks like inside. 2021 is almost ending but it's never too late to design your garage; in fact, this could still be a perfect time before the winter season when the garage could become a less bearable area to stay in.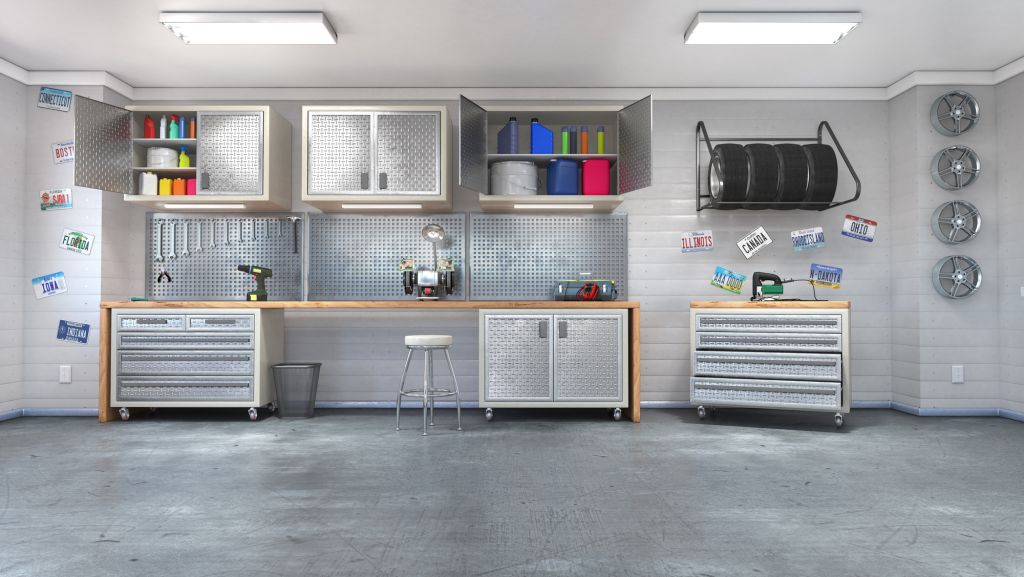 Here are some 2021 garage design trends we were able to scour from the Internet.
1. Antibacterial finishes
Because of the COVID-19 pandemic, more homeowners have become clean freaks. Antimicrobial and antibacterial finishes have been in the market before but have risen in popularity for those who are bothered with bacteria, dust, and dirt. Of course, the garage should still be regularly cleaned but these finishes help lessen the growth of bacteria and also prevent it from reproducing. The bacteria ages and dies.
2. Gray Paint
This year started with the Pantone Color Institute choosing Ultimate Gray as one of the top colors of 2021. Garages have long been painted usually with gray tones because this hides dirt, it's neutral and easy to look at. Many homeowners have opted to paint their garages with different shades of gray, giving it neutral sophistication and a clean finish only fit for the year 2021.
3. Ideal Workspace
Since more people work at home now, the garage has become an ideal workspace. One of the focal points (aside from the car, of course) is a tool area. This is where you could see a pegboard where the tools would vary depending on the homeowner's aesthetic, lifestyle needs, and purpose for the workspace. A woodworker may need the space for hand tools and added in magnetic bars, brackets, and bins. Some could use it as a gift wrapping station and put in paper roll holders and bins where tapes, bows, scissors, and wrappers could be stored. The possibilities are literally endless and you could work with a team of interior designers for your workspace vision to come to life.
4. Garage as a Premium Storage Space
Seamless, clean, and use of ceiling and wall space have been the rising trends in garage design. These are highly customizable which homeowners desire since the objects they store in the garage vary. The market is also filled with people of different lifestyles which means some may have large sports equipment to store while others have an inventory of clothes they want to keep in the garage.
FlexiMounts is one company that has various wall shelving and ceiling storage options. You're in luck if you're seeing this before Black Friday because you may get the brand's premium storage solutions at a discount.
Classic 4′ X 8′ Overhead Garage Storage Rack (with hooks) GR48-H
This storage solution is ceiling-mounted, sized 4" x 8," height adjustable from 22 to 40 inches, and made of cold-roll steel. It boasts of high-quality construction that can safely carry 600 pounds. It's waterproof and is perfect as well for storing seasonal objects. It comes with two accessories: 4 pieces of flat hooks (GRH1) and two pieces of utility hooks (GRH3). The integrated grid design makes it easier to be installed by one person. It also keeps the integrated wire grid and frames welded together that resulting in a sturdy and stable storage solution.
Classic 2-Pack Wall Shelving WR Series
This wall mount shelving solution has a weight capacity of 200 to 400 pounds in total. It's made of powder-coated steel that is guaranteed to be of top material after going through multiple strict tests. It has a buckle design that prevents falling and can be mounted on studs or a concrete wall. Three storage spaces are available for this wall shelf: 2' x 4', 1 x 6, and 1' X 4.' It comes in black or white.
HANGER WALL MOUNTED BIKE RACK BR1
One of FlexiMounts' bike storage solutions, it has a weight capacity of up to 300 pounds that could support up to six bikes. The material is made of cold-roll steel and has J-shaped hooks that could secure bicycles in the proper position. Its hooks can be repositioned and be based on the spacing that you prefer. Bikes can be stored in a vertical position which will free up space and optimize your garage. It's easy and fast to assemble.
FLEXIBLE BIKE HITCH RACK FOLDABLE BHR4
Made of cold-roll steel protected with a powder paint finish, these foldable arms can hold up to 165 pounds. It can be easily tucked in when not in use, folded so as not to take up too much space. Because of its tiltable mainmast, it could lift bikes easily. It is durable and has a high-quality structure with anti-wobble knobs that strengthen the connection between the mainmast and folding arms. Its adjustable straps can carry up to four bikes.
5. Car as the Focus
This year, people are trying harder to be able to park their cars in the garage. Believe it or not, even though the garage is for the car, statistics show that homeowners struggle to park their cars in the garage. This is because of the lack of floor space. Installing ceiling and wall storage solutions would definitely help bring back the garage's parking purpose. This year, a Slatwall system has been a trendy choice because it maximizes the vertical space of the garage, starting from the floor all the way up to the ceiling.