M

any of us see ourselves hanging our bicycles at the first sight of snowflakes. Understandably so because the low temperatures, let alone the extremely cool winds that brush our faces as we ride past roads over roads, give us cold shocks. It leaves us quite an unpleasant experience. However, do not underestimate the health benefits that cycling can bring to us. And of course, getting prepared to cycle like a pro comes with great rewards.
So, to answer the question, is it safe to cycle in winter? That's definitely a yes!
Cycling in winter is a good exercise to combat overeating during the holidays. Our bodies grapple to stay warm in the cold season. So, by riding the bicycle, not only do we burn more calories, but we also learn to use oxygen in our bodies efficiently.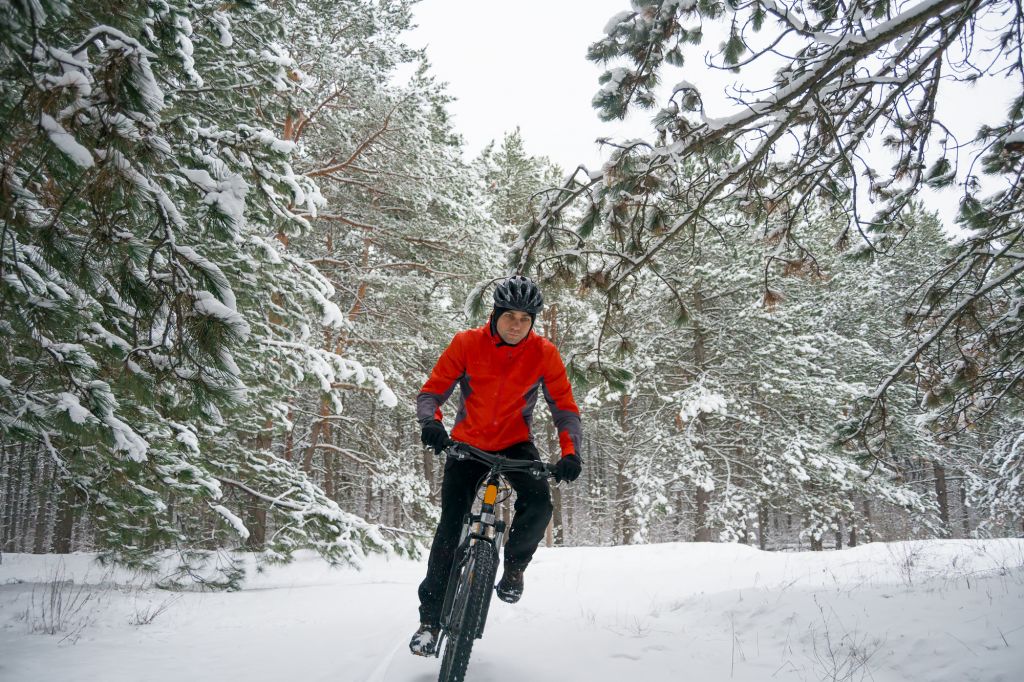 Getting Frostbite Can Be Prevented
Cycling can be really fun, it brings another level of excitement compared to warmer days. However, cycling in the icy weather exposes us to freezing the body parts essential to biking such as the fingers and face. Once the numbness creeps in these parts of the body, it can be very dangerous as the fingers navigate and control the brakes, and the feet pedal our bikes.
Of course, we have to be armed with essential gear and clothes to maximize the fun. Wear lightly tinted glasses to keep your eyes from getting specs of snow; thermal, waterproof, windproof everything you wear from head to toe. An insulated and warm pair of gloves and overshoes can prevent numbness on the hands and feet.
Risks on the Road
Roads can be slippery during winter as patches of ice cover parts of the bicycle lanes and wet leaves lay on the ground. Being cautious may take you the extra mile, but it keeps you from harm and lets you enjoy the ride in peace.
Be alert. Be observant and keep your eyes on the road. Pedal slowly and carefully, and take the corners with caution. Speeding in this type of weather can give you an adrenaline rush, but exposes you to danger and unwanted accidents.
Also, bring a working pump and at least two tubes with you. Your bike tires are susceptible to getting thorns, sharp pieces of flint, or even shards of glass on the road. And you would not want to spend the night on the road just because your bike tires got punctured.
Another way to prevent this from happening is by installing tires that are harder wearing and have puncture protection. Though these kinds of tires can be on the more expensive side, they offer great value of money because of their performance in the winter rides.
MUST-HAVE BIKE ACCESSORIES
1. Fleximounts Hanger Wall-Mounted Bike Rack BR1
Proper storage of your bicycle units is part of the care and maintenance, especially during cold seasons as the bike is prone to moisture. From extreme coldness outside, then bringing it inside with relatively higher temperature, the moisture build-up is inevitable. So aside from fine-tuning the temperature inside the garage, subjecting the bikes off the floor is the better option as the ground could also add to the causes of moisture build-up. And one storage rack that you can depend on is the Fleximounts Hanger Wall-Mounted Bike Rack BR1.
The wall mount bike rack is made of high-quality materials. It is created from powder-coated, cold-rolled steel for durability, which resists rusting, chipping, and cracking. The racks available can hold 1 bike, 4 bikes, or 6 bikes. It can hold up to 300 lbs or 136 kg for the 6-bike rack. They are heavy-duty and long-lasting that can withstand years, and are dependable for load-bearing performance. This is especially good for cyclists who will take this lifestyle for a very long time. And of course, as you venture into cycling, a high chance would be to buy more bicycles that fit a certain activity. So this could mean the need for more storage space and durable storage racks.
The J-shaped hooks are easy to use as they fit perfectly to the curvature of your bike hubs, thus, providing a firm grip to secure the bicycles in their proper position. You need not worry about the hooks coming off the hanging bikes because each hook is mounted securely. And the good thing also is that the premium bike hooks are wrapped with dense sponge foam tubing, which prevents aging and cracking and offers better protection for your bike's wheels, hubs, and spokes.
The hooks can easily be re-positioned anywhere on the rack to suit different bicycle sizes as storage needs change. The bike wall mount hanger fits most types of bicycles (within 2.56-in range in diameter), including mountain bikes, road bikes, and kids bikes. But this excludes wide-tire bikes.
2. Fleximounts Bike Hitch Rack Foldable BHR4
When transporting bikes if you want to travel far or do uphill cycling, a good accessory to attach to your car is a hitch rack. This bike rack is as durable as you want it to be. It is made of a cold-roll steel structure with a protective powder paint finish. It has anti-wobble knobs to strengthen the connection between the mainmast and folding arms. You are assured that the bike rack can be firmly or securely fixed in place, which would be our biggest worry when on the road. Frequent glances at the back of our car would be lessened with this rack as you will be at ease with its performance.
The foldable bike hitch rack features a tiltable mainmast. The body of the rack can swing up, down, forward and backward, which allows easier lifting of bikes. The rack pops back to its original position with the anti-wobble knob.
Moreover, its foldable arms are easy to move. So, when the rack is not in use, you can easily fold it back to safekeeping. The arms won't also get in the way even if they are installed in your vehicle.
The Fleximounts Bike Hitch Rack Foldable BHR4 is compatible with different sizes of bikes, which is perfect for group outings and if you own multiple types of bicycles. The rack has adjustable straps that can hold up to four bikes. It can carry a weight of up to 165 lbs.