F

or many of us, winter has forced us into a dry spell when it comes to cycling. The grueling cold and snowy months have let us lock our bikes in the garage as we deemed seeing no action as the most practical thing to do. But hey, it is springtime already and we just could not wait to get out there and hop on our two-wheeled best friend as the weather is inviting us to get healthy and physical.
The spring season is also the perfect time to get our grooves back as summer is just lurking around the corner. And you know that when summer comes, cycling events sprout here and there. And have you not been preparing for those sports events for a year now? You do not need to wait for summer to arrive before prepping yourself and your bike for what is to come. Spring is the time to make all the preparations, so do make it count!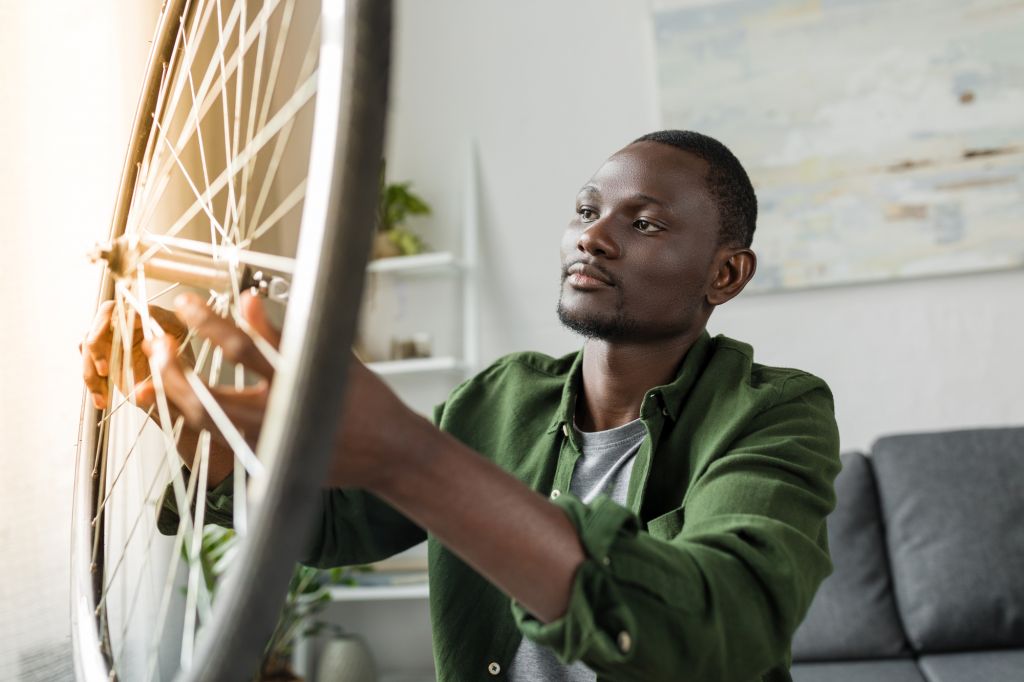 How to Prep your Bike for Spring CyclingHere are a few tips on how to get started and be back on track.
Adjust the seat of the bike
After having been stored for a long time, chances are that there are loose ends in some parts of your bike, which may include your bike seat. So before you ride on it again, make sure to tighten the seat, or else, you will be in trouble. Another measure to take on is to replace your seat in case the seat cover has been worn out. It would be too uncomfortable to sit on it if left unreplaced.
Make sure that the gears run smoothly
It is also advisable to check on the shifters and the derailleurs. Just like the bike seat, the derailleur needs adjusting. The best way to adjust is to hang your bike upside down using a bike stand. Then spin the pedals to run through the gears. In this way, you can check if they shift correctly. If not, you can adjust the front and rear derailleurs using a Phillips-head screwdriver.
Check your bike tires
Bike tires lose pressure over time, even if left unused. So, to avoid any mishaps on the road while cycling, get the correct tire pressure by using a floor pump or an electric bike pump.
Test your brake levers
Brakes keep you safe when cycling, especially when on an uphill ride. So, it is important to test your brake levers to see if they engage your brake pads as normal. Check if the brakes are not sticking and should be bringing the wheel to a complete stop when in motion. If not, adjust the brake lever by unscrewing the barrel adjuster slightly.
Inspect your brake pads
As with brake levers, you should also thoroughly check your brake pads before heading off on a bike ride. If the brake pads appear worn, it is time to replace them with a new ones. If the brake pads are loose or too far away from the rim, you can adjust the brake cable using a screwdriver. If the brake pads are squeaking, then have them fixed quickly.
Examine your bike chain
You do not want the bike chain to come off while you are riding which could result in serious injury. That is why it is important to check if the bike chain has loosened over time. To examine the chain tension, press your fingers against the top of the chain. It should not move more than half an inch. But it would be better if you replace the chain as bike chains naturally loosen and stretch over time.
Tighten the spokes
How important is the role of the spokes in a functioning bicycle? They keep your wheels straight. Therefore, if the wheels are a little wobbly, then the next thing you should do is to tighten the spokes. But be careful not to overtighten them as it could result in deformities or cracks in the rim due to too much tension.
And lastly, apply dry lubricant
The moving parts should be moving correctly. Otherwise, apply some dry lubricant to fix the moving parts such as the chain, chainring, and rear cog. Some of you may be wondering why to apply a dry lubricant instead of a wet lubricant. While both are accepted to use, we prefer dry lubricant because when it dries, it will leave a wax-like finish and will not pick up much dirt. As opposed to a wet lubricant, it will stay wet until they are wiped off and are much thicker than a dry lubricant.
When bicycle units are not in use, we recommend utilizing Fleximounts BR1 Hanger Wall Mounted Bike Rack to keep your bikes safe.
Optimize the garage storage by utilizing the Fleximounts BR1 Hanger Wall Mounted Bike Rack. Storing your bikes in a vertical position frees up valuable floor space, which you can practically use for your cars or other storage needs. Aside from that, it also provides easy access to mount and dismount each bike. Thus, you can save your energy for the cycling activity of the day!
The wall mount bike rack uses only high-quality materials–powder-coated, cold-rolled steel–to ensure durability, rust resistance, chipping and cracking. The rack has options to carry one bike, four bikes, or six bikes. The six-bike stand can hold up to 300 lbs or 136 kg. They are heavy-duty and long-lasting that can withstand years, and are dependable for load-bearing performance. It is perfect for cyclists who will take this lifestyle for a very long time. And of course, as you venture into cycling, a high chance would be to buy more bicycles that fit a particular activity. So this could mean the need for more storage space and durable storage racks.
The J-shaped hooks are easy to use as they fit perfectly to the curvature of your bike hubs, thus, providing a firm grip to secure the bicycles in their proper position. You need not worry about the hooks coming off the hanging bikes because each hook is mounted securely. And the good thing also is that the premium bike hooks are wrapped with thick sponge foam tubing, which prevents aging and cracking and offers better protection for your bike's wheels, hubs, and spokes.
The hooks can easily be re-positioned anywhere on the rack to suit different bicycle sizes as storage needs change. The bike wall mount hanger fits most bicycles (within 2.56-in range in diameter), including mountain bikes, road bikes, and kids' bikes. But this excludes wide-tire bikes.