I

t's no surprise that workbenches quickly retire to dust compared to other furniture at home.
They get left in the corner of the garage untouched for weeks and months because who goes to the garage as often as they go to the living room, anyway? There might still be open paint tins or broken utility tools on top of your workbench for a project that was left unfinished ages ago. Please don't be shy to admit it because it's quite a common scenario. Life gets in the way, and people often forget the garage and its tools.
Workbenches are out to prove their purpose though and the value they could add to anyone's life. They are versatile tools that it's almost impossible that different people will use for the same task. You don't even need to be an expert woodworker to maximize what you could do in a workbench. With proper planning and the will to execute, you could use your workbench safely and productively, all while having fun and feeling fulfilled towards the end of your small project.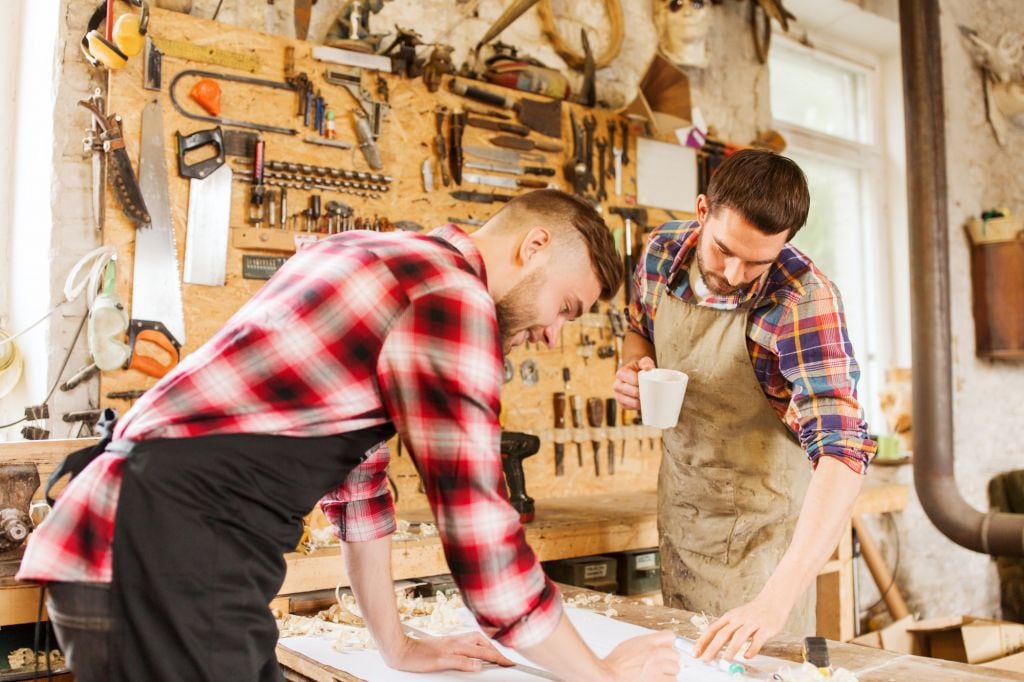 Here are some activities that you could do with your trusty workbench.
1. A workbench can be used for sanding or planing.
It's common for homeowners to smoothen a shelf with many splinters. Sometimes, they also want to trim down a door that doesn't fit. The workbench is great for that type of work that requires sanding or planing. The woodwork will be laid on the workbench where you could start sanding or planing to your content. This could be messy so transfer your workbench outside to make sure wood shavings won't mess up your garage.
2. A workbench can be used for painting or varnishing.
A painting or a varnishing job is a common activity because it's something anyone in the household can do. It's easy to apply a fresh coat of paint or varnish to your furniture and the workbench can help you with that. It will hold the items firmly so you can coat them properly on all sides. A painting job takes time, depending on how big your project is, so it pays to be comfortable while you're painting. You can do so with a workbench and voila, you have a new piece of furniture after a job well done!
3. A workbench can be used for sawing.
We're pretty sure you've seen workbenches being used for sawing. It's so ideal for this step because the workbench stops the wood from moving while you work on it. You could easily fix broken fence panels or make a new piece of the rack by sawing on your workbench. Just concentrate and focus because you wouldn't want to see through the workbench! The sawing blade should face away from you and from the work bench's surface to avoid accidents from happening.
4. A workbench can be used for drilling.
Another use of the workbench is for drilling holes through two items. You could hold the two items together and make sure that you drill the hole at the right place. Through drilling with a workbench, you would be able to fix photo frames, assemble kitchen cabinets precisely and make your own furniture.
5. A workbench can be used for repairing appliances.
We already know that the kitchen surface or your dining table is not the best place to repair broken equipment at home. This is why you bought a workbench. It would be easier for you to disassemble, repair, and assemble because it is made for those jobs. Make sure that you have a bowl next to you where you'd put the screws and tiny loose parts while assembling. In this way, you won't get stressed out looking for them in case they get lost.
6. A workbench can be used for gardening.
A recent thread shows workbenches have been used by gardeners to serve as potting benches or places to re-pot shrubs. Other gardening tasks such as holding branches in place when you have to cut them can also be catered by workbenches.
7. A workbench can be used for storing large tools.
If you need support for your power tools such as sanders, tile-cutting machines, and saws, then the workbench is off to rescue you. Your tools can actually be clamped onto the workbench so that they won't slip if you move them around. It's very important to note that the bench boards are supposed to be spaced apart with the right distance.
8. A workbench can be used for creating a workspace.
A workbench is an instant extra space for any hobby you have taken on. You could even make it bigger by attaching a sturdy piece of wood to the bottom of a flat board and clamping it to the bench's vice. This is most ideal for people who are drawing up plans or working on a fence post for the backyard.
FlexiMounts Work Benches
FlexiMounts carries two workbenches that are currently on sale as part of the brand's big Black Friday discounted offers. Check out these two products below:
CUSTOMIZABLE WORKBENCH SHELVING FRAME WB107
Price: $89.99 - $94.99
Get $15 off when you use SALE15
This workbench is made of heavy-duty steel and has a weight capacity of 1000 pounds. It has a maximum dimension of 96″ in length, 48″ in width, and adjustable in height. It uses top-quality stainless steel screws; lumber color and finish can be customized, and storage capacity can be expanded.
DURABLE WORKBENCH WITH BUILT-IN DRAWER WB201
Price: $259.99
Get $15 off when you use SALE15
Designed with high-quality craftsmanship, this durable frame can hold up to 3000 pounds. It is made of cold-roll steel, and its thick solid surface is made of 100% rubberwood. This solid surface is 1" thick wood sealed with varnish as protection against chips and scratches. It has a built-in pull-out drawer that serves as an integrated storage space for your utility tools and supplies. Its adjustable leveling feet will ensure the stability of the bench in areas with uneven floors.