W

e just couldn't sit and wait for the springtime to come sooner. If we must cycle, we should cycle. But the cold, cold winter winds, sometimes accompanied with rain showers and snowfall, make us curl up again on the couch and fold our cycling gears back to the cabinets. The winter months are painstakingly holding us off to get physical. But, here is your chance to actually explore other destinations. Are you missing the warmth and the sun? Then, you can head over to the destinations below and cycle away!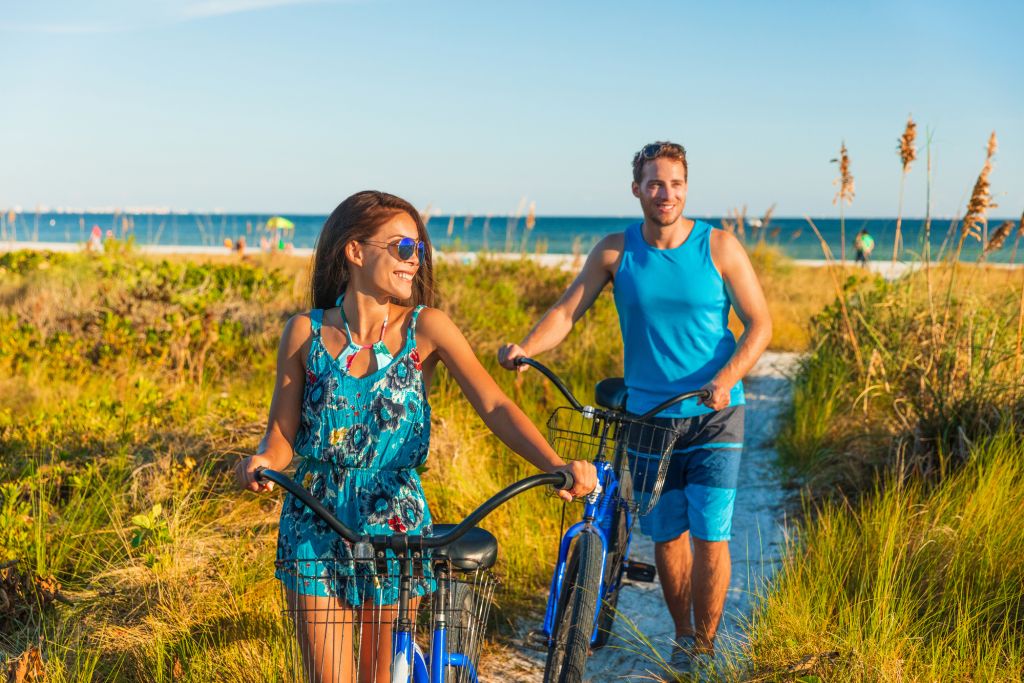 Arizona
First up on our list is Arizona. When you need to find a sunny destination, this place comes to mind instantly. While cycling in summer can get too hot to handle, winter can bring the comfort you are looking for. The roads are clear, and the views are amazing. Don't say we did not warn you since this route can be incredibly challenging if you wish to traverse Mt. Lemmon in the northern part, which sits 8,000 feet above sea level. But, once you reach the higher altitude, you just want to stop for a while and take in the breathtaking sceneries.
You can also take the southern route, where even non-bikers or casual cyclists will enjoy. The Sonoran Desert and Saguaro National Park have their charms. Add those to the unexplored riding routes and possibly an activity you will enjoy as well–bird watching in Patagonia Lake State Park.
Florida
Nothing beats the tropical vibe of Florida. With all the crystal blue waters, diverse wildlife, and hip resorts, Florida is the go-to place of many during winter. And for the cyclists, the good news is that aside from soaking and enjoying the waters, you can also ride through the mountain bike trails.
You can hop on and explore the Florida Keys and Everglades National Park, which happens to be an International Biosphere Reserve and World Heritage Site. And for the more adventurous ones, try the Oleta River State Park trail. The tight singletrack with roots, whoops, and drops will send jolts of excitement all over you.
California
A desert oasis, you say? Then, definitely, you have already heard of California Death Valley. Stunning dunes, bewitching color palettes and historic ghost towns define this sub-sea level basin. Do not let the name scare you because it will surely bring life to the otherwise blue winters once you have seen it in person.
Aside from the dry, desert roads and green rolling hills in the north, give the China Camp trail in Marin county a try. It is just high above the golden gate bridge. And if you are in for a side trip, then bask in some cultural sense and additional knowledge by visiting the Marin Museum of Bicycling and Mountain Bike Hall of Fame. We have heard that some of the most influential bicycle builders hang out in this place. And you will get to see the evolution of bicycles that span 100 years. Interesting, right?
How to Transport the Bicycle: Use the Fleximounts BHR4 Flexible and Foldable Bike Hitch Rack
When transporting bikes, if you want to travel far or do uphill cycling, an excellent accessory to attach to your car is a hitch rack. This bike rack is as durable as you want it to be. It is a cold-roll steel structure with a protective powder paint finish. It has anti-wobble knobs to strengthen the connection between the mainmast and folding arms. You are assured that you can firmly or securely fix the bike rack in place, which would be our biggest worry when on the road. Frequent glances at the back of our car would be lessened with this rack as you will be at ease with its performance.
The foldable bike hitch rack features a tiltable mainmast. The rack's body can swing up, down, forward and backward, which allows easier lifting of bikes. The rack pops back to its original position with the anti-wobble knob.
Moreover, its foldable arms are easy to move. So, when the rack is not in use, you can easily fold it back to safekeeping. Even if they are installed in your vehicle, the arms won't also get in the way.
The Fleximounts Bike Hitch Rack Foldable BHR4 is compatible with different sizes of bikes, which is perfect for group outings and if you own multiple types of bicycles. The rack has adjustable straps that can hold up to four bikes. It can carry a weight of up to 165 lbs.
How to Store the Bicycles: Use the Fleximounts BR1 Hanger Wall Mounted Bike Rack
The wall mount bike rack is made of high-quality materials. It is created from powder-coated, cold-rolled steel for durability, resisting rusting, chipping and cracking. The available racks can hold one bike, four bikes, or six bikes. It can hold up to 300 lbs or 136 kg for the six-bike rack. They are heavy-duty and long-lasting, can withstand years, and are dependable for load-bearing performance. It is perfect for cyclists who will take this lifestyle for a very long time. And of course, as you venture into cycling, a high chance would be to buy more bicycles that fit a specific activity. So this could mean the need for more storage space and durable storage racks.
The J-shaped hooks are easy to use as they fit perfectly to the curvature of your bike hubs, thus, providing a firm grip to secure the bicycles in their proper position. You need not worry about the hooks coming off the hanging bikes because each hook is mounted securely. And the good thing also is that the premium bike hooks are wrapped with dense sponge foam tubing, which prevents aging and cracking and offers better protection for your bike's wheels, hubs and spokes.
The hooks can easily be re-positioned anywhere on the rack to suit different bicycle sizes as storage needs change. The bike wall mount hanger fits most bicycles (within 2.56-in range in diameter), including mountain bikes, road bikes and kids bikes. But this excludes wide-tire bikes.