I

s remodeling or renovating the garage on your project list this year? Does your garage need more storage space? Or maybe, you need the garage to become a more elaborate, spacious, and luxurious area on your property.
But before starting with the significant home project, go through your belongings first. It could be that the reason behind the unorganized and barely functional garage is you are hoarding too much stuff that you should have thrown away. Do some cleaning, remove dust, let go of the items that are just occupying space and accumulating dirt, and plan a layout of your garage space.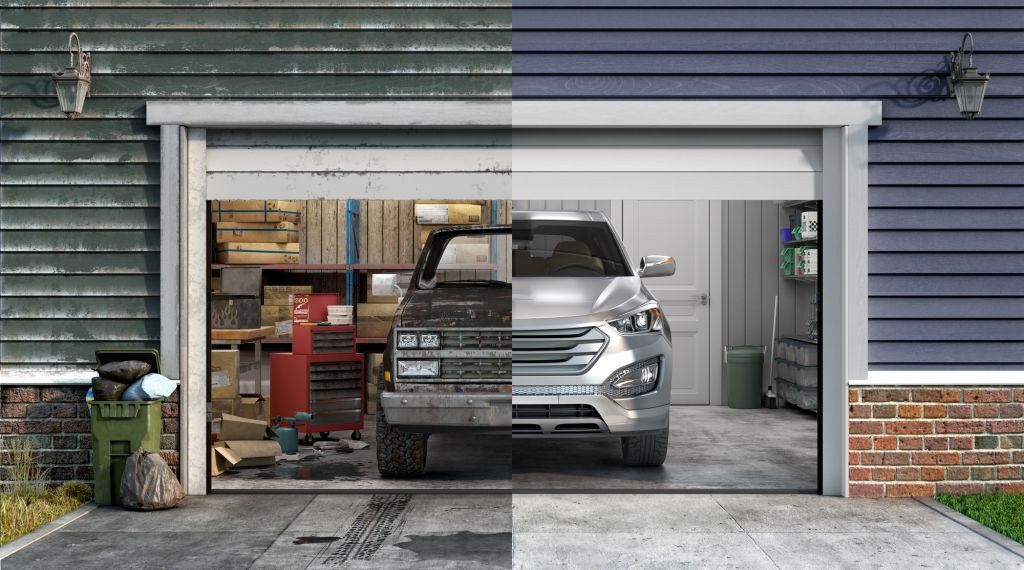 What is considered junk?
We tend to leave the junk in the garage untouched. The effect is that it often overrules the space for more important things like your parking space. Your vehicles may be left in the driveway due to a lack of free space in the garage. And the area for the workshop may have turned into a repository of boxes, piles of items that we no longer use nor need.
When clearing out stuff in the garage, the easiest way to determine which ones need to be let go is if you have not touched the item for a year, let it go. The item has likely been left untouched because you do not need it at all, or you have forgotten about it or misplaced the item that you probably have replaced with a new one. Toss or throw, donate, or give it away.
The what-ifs and maybes are your biggest hindrances to keeping your garage clean and may turn it instead into one pile of a junkyard. One might use the excuse – I might be needing it soon, so why should I throw it out? But the truth of the matter is when exactly is that? The living proof of you not needing that specific item is you have left it in the box for far too long that it has already accumulated dust. What more proof do you need?
To start with your decluttering, have a designated area – the driveway or lawn – to stock the stuff in the garage. Then, you can sort all your stuff out into keep, throw, recycle, or donate. Once you have categorized them well, you will see which ones are generally considered junk. Take a mental note so that you will not be repeating the same mistakes of storing them in the garage in the future.
Common Types of Junk Stored in the Garage
1. Old sports equipment
You may own more than a pair of rackets, a couple of sports balls, rings, bats, and other sports equipment for a sports-loving family. You spent summers playing and exploring sports with your kids, and they may have enrolled in sports clinics.
But for many, these sports equipment pile up, leaving them worn out or deflated for several reasons. One could lose interest, or two, they need fixing, which you are unlikely to attend to. Thus, you have already built a temple of old sports gear in your garage.
If the sports equipment is still in good shape, and can still be used, do the good thing by donating them to charity, or giving them to a member of your community who does not have the financial means to own athletic gear. Give your sports equipment a new home where new owners would love to play with them.
2. Leftover paint
When we see discoloration and cracks on our painted walls, we deem fit to give them a new life by repainting them. And most of the time, we cannot consume all the cans of paint we bought. So that leaves us with leftovers. Often, we store these cans in the garage, thinking that we would be able to use them for future use. While we see it as economical and practical to keep them, we forget that the garage's temperature and moisture are ever-changing. Thus, the paints are left to dry out, colors to be separated, and visible change in consistency. Once we check and open these cans, we will be dismayed that they are no longer usable.
Dispose of the cans responsibly. They contain hazardous wastes, so better check the instructions with your local disposal facility on how to discard them properly.
3. Old appliance cardboard
Another common junk that we love to keep in the garage is the old appliance cardboard. We couldn't throw them right away after unboxing the appliances for many reasons. One is that we could use them when we move out. And two, we could exchange them when they have defects and are still under warranty. Or three, we could price the appliance for a higher price if we keep their original packaging. However, out of the three possibilities, the question that pops up right away is, "When will these happen soon?" Most likely, the answer is close to never. So, instead of letting these cardboard boxes collect dust and insects, and deteriorate due to moisture and temperature in the garage, just throw them out right away.
Reliable Storage for Your Stored Items
You will create more space in the garage if you choose to install overhead garage storage or wall shelving, as they maximize the free space that is otherwise left unused. There are many wall shelves and overhead garage storage available in the market. A quick search on e-commerce sites will show hundreds of products. But looking for what will be best suited in your garage will take time if you do not know what you want and need in garage storage.
Aside from the affordability and price, the criteria that you should look for in a piece of storage equipment is that you can also utilize an organizing shelf that can be of multiple uses and offers flexibility, which will suit your needs–whether it is for weight capacity, reinventing of the orientation of the shelf and compatibility with the kind of walls that you already have in the garage. It is common sense that it will be easier and financially logical to get a rack that is already compatible with the build of your garage.
The WRC24B Fleximounts Corner 2-Pack 2' x 4' Wall Shelving is one such reliable top storage solution. You can save a significant amount of space in the garage by using the corner walls to install the wall shelf. Moreover, it offers flexible installation as you can use the WRC24B either as a corner shelf or a two-pack wall shelf. It is also compatible and suited for either wood studs or concrete walls.
It is made of powder-coated steel, responsible for its heavy-duty and sturdy performance. Each shelf can carry a maximum weight of 220 lbs without being wobbly, so you are assured of the safety of the items stored on it, and you do not need to worry about falling objects cluttering your garage. Additionally, its one-piece grid design for easier assembly makes it more stable compared to others with multi-piece assembly available in the market.
Assembling and installing this wall shelf will be a breeze as it is designed for easy one-person installation. In the package, all the hardware that you need is already included, as well as the installation template that helps with the mounting of holes and the bubble level that helps get the perfect horizontal location.
Moreover, the Fleximounts WRC24B Wall Shelving storage space offers additional storage options. You can easily expand the storage with the Fleximounts GRH1/GRH1B hooks or GRH2/GRH2B hooks. You can use the hooks to store bikes, tools, cleaning materials, and more.