P
retty much every single woman fantasizes about having a closet filled up to the brim with wonderful clothes. If you're inexperienced, building complete a walk-in closet may sound daunting, but the truth is that you wouldn't need any specific woodworking skills to make your fantasy come true. Admittedly, a handful of creative persons can construct it in a matter of weeks. Wanna know how? Read on to find out As you dream about your perfect close, these are the critical points that you have to consider: 1) The size of your wardrobe from top to bottom. 2) The width of the wall area that is available. That covers the side and back panels of walk-in wardrobes. 3) This closet's surface. The points are crucial because they determine the level of shelving that may be used, the number of storage and equipment that will be required, and the alternatives that can be added to a basic layout.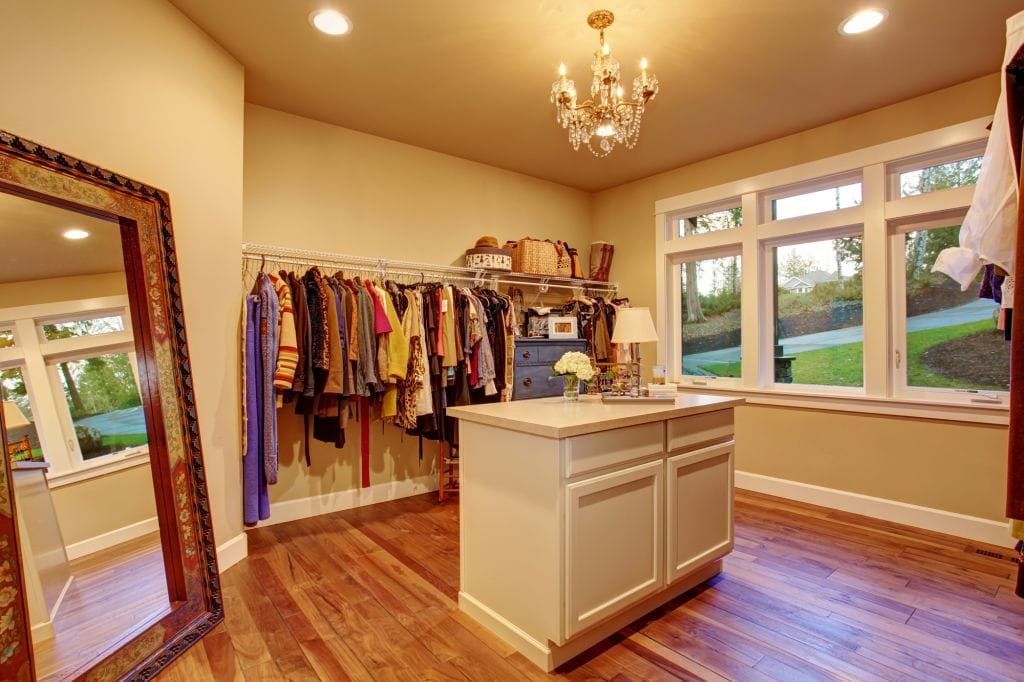 An Unused Garage is the Prime Location for your Dream Walk-In Close
You may not believe it but with little tweaks and creativity, your unused garage can have a fresh new life as you turn it into a walk-in closet. The space is big enough for everything in your collection and you can take the whole area to be your personal vanity room.
Choose Your Arrangement
To choose the dimensions and design of your walk-in wardrobe, you must first consider some things. What will you bring inside the closet? If you are planning on turning it into an overall beauty and fashion room, this can help you determine and plan the layout of the inside. How are you gonna keep the inside tidy? Will you be utilizing racks, shelves, and smaller cabinets? Are you planning to incorporate things that can take up a great space like a vanity table and mirror? Would there be enough space for you to move around even if you have all of your clothes, accessories, and shoes inside? To estimate display area, a reasonable guideline is to allow 1 inch for each piece. However, keep in mind that bulkier things such as winter coats and gowns require additional room. You can fully utilize the capacity of your wardrobe, incorporate a dual area into the arrangement. By placing shirts and blouses atop and trousers under, you can increase room while also keeping wardrobe fitting entertaining and effortless. You must also ensure that longer articles of clothing would not touch the ground or be crumpled up because of a shorter space.
How can you spruce up an old garage to be your walk-in closet?
1.Decide on the theme of your walk-in closet
This is the part where you must lock on one or two themes that would make you happy. If you are after a simpler look, you can try a minimalist aesthetic that would also be easier to clean up. Utilize clean lines and muted colors to make the converted garage look streamlined with your vision. For those who want to feel like a movie star, the Old Hollywood theme would put a dazzling smile on your face. Find pieces of furniture that evoke that glitz and glamour era. Those who want a more colorful aesthetic, have fun with different shades of hues that compliment each other. Look for furniture that are rounded to keep the room from looking too busy as the colors can really get anybody's attention.
2.Find the perfect furniture
Converting a garage can be expensive. But how can you achieve your dream closet if you are on a budget? It is simple really. Just look around vintage shops and the local flea markets for beautiful but cheap finds that you can haggle the price. Yard sales are also a great place to look for furniture for less. Not only will you have a great time looking for the pieces that would fit right in your closet, you will also save these furniture from ending up on dumpsters. Remember, even if you want a new closet, it does not mean that you must forget about saving the Earth by buying new furniture that could be mass-produced by large companies.
3.Organization Solutions
A walk-in closet is only beautiful and useful if all your belongings are in the right places. And FlexiMounts has all of the solutions for you. The GR36 in white provides a waterproof, high-quality build that can carry your beloved items no matter how heavy those are. You also do not need to worry about having a hard time with installation as the kit comes with everything that you will need. From gears, hardware, and to the manual, FlexiMounts has got your back! Unlike other offerings, FlexiMounts provides thicker screws. This is crucial screws offered by other companies are low-quality and thinner. If used, you may compromise the integrity of the closet that you have worked so hard for. "This is utterly perfect for us. We erected it over the break, signaling the beginning of our carport remodeling. For us, the most difficult element of the installation was locating the studs and determining the optimal location for the racking to install. We got a few taller relatives, so we made certain the shelf did not dangle too low and cause them to bang their heads. Once we located the studs and determined the location of the installation, the process was rather straightforward. The directions were quite simple to understand, and all of the equipment was conveniently located. Definitely Recommended!" Jonah K. "This is ideal and very reasonably priced! We've been looking for a while for a carport storage solution and I'm so glad we chose this one! Simple to assemble and we're going to be able to store a lot on it! I intend to acquire another in the near future!" - Sheila M.
Final Thoughts
It can be expensive to convert your garage to the walk-in closet of your dreams. However, remember that you happiness should always come first! And instead of letting your unused and messy garage deteriorate, why not convert it into something useful, right? That is why go ahead and indulge yourself-- you deserve this!