Y

ou are finally committing to finding your own space for your pottery this 2022. You need an area to layout your materials and final products plus a quiet environment that will allow you to deeply concentrate. You haven't been putting it off for no reason. It's difficult to find not the perfect but the right space that you will be able to work best—be it in your garage or an outside studio. There are so many things to consider including floor area and ventilation.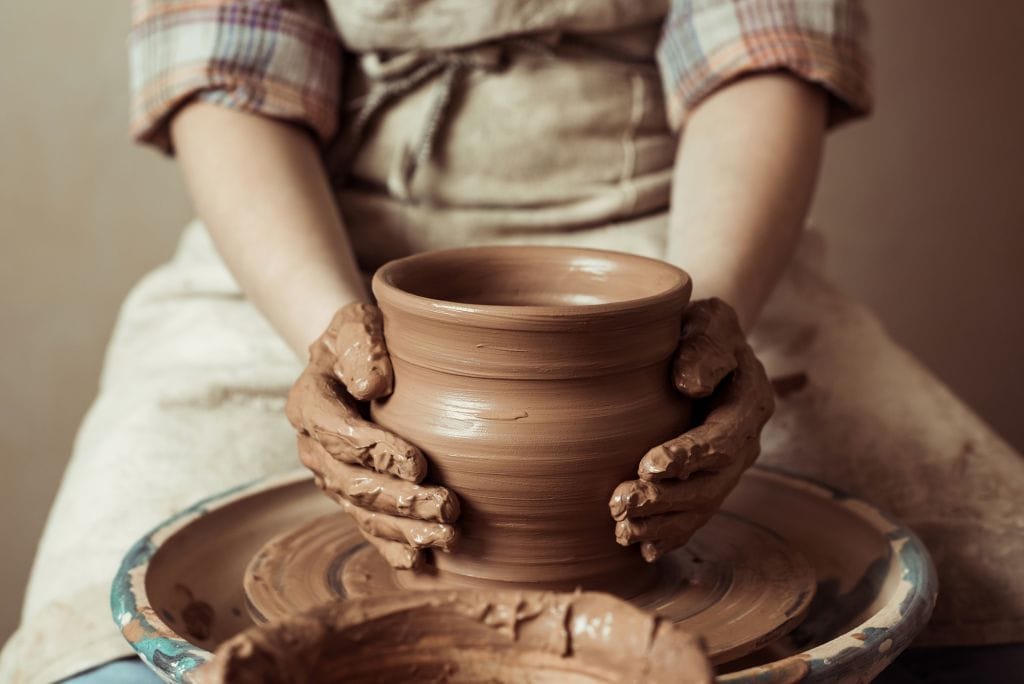 First, even before your studio search, ask yourself how bad do you want it? How interested are you in pottery or do you just want to dabble into the hobby as a pastime? Sit down with yourself first and be honest whether or not you need your own pottery studio or you may still use your friend's space in the meantime.
Second, you have to look at the space that's already there. What is available for you to use? If you have a vacant area that's ready to be transformed into a studio, then there you go. You could start right away by transferring all your materials inside the room. But if you're just taking this up as a hobby, then it might be best to use a spare room first. Look for spaces at your house that could be your studio for the time being. If you're looking into turning this hobby into a full-fledged business, then you might consider outbuildings or converting your garage into a studio. Another option is to rent out a space—there are even those that are really rented for pottery alone. If you don't know where they are, do your research and check with fellow artists, groups, art centers, and museums.
Third, you have to classify your type of pottery. In the world of ceramics, there is what we call hand-building or building pots by hand. This means you won't be needing a big space compared to if you are using a potter's wheel and throwing. It's actually possible to make pots on your kitchen table or a workbench, just consider the dimensions if they will be enough for the woodwork projects you are taking on.
From FlexiMounts, we recommend:
This new work bench offer is height adjustable and all-purpose. The workbench is made of solid rubberwood surface and a steel frame with a maximum load capacity of 500 pounds, comfortably carrying your sewing machine, laptop, and other business essentials. It's spacious with 47.2" x 23.6" x 1" dimensions while the height can be adjusted from 29.5" to 44.1". With a wide range, this multipurpose desk lets you sit or stand comfortably while planning for your next woodwork project.
It makes use of a crank handle to manually adjust the height that allows for easier lifting of the desk, even when the load is heavy and full. It also means you won't need extra tools or an electrical outlet just to adjust the height of the table.
You should also note that throwing can get messy. It will mess up your walls, furniture, and floor so make sure to cover everything before starting. The wheel also takes up space so you have to choose between an electric wheel or a kick wheel.
The fourth thing to consider is work frequency. How often will you do pottery in a week? How many pots or ceramics will you create? How big are your planned creations? This will help determine what studio will best suit you because obviously if you're just making two small pieces in a month, you wouldn't need that much space as compared to making hundreds of large pots in a span of a week.
Fifth is you need storage space for your materials which include supplies such as clay, clay scraps, and glaze ingredients. You also need shelves for the pots that you will finish. This area must not be bumped so that they could dry in peace without getting broken.
We recommend this from FlexiMounts:
For items that you want to be accessible, they are better stored on a wall shelf. This wall-mounted storage solution from FlexiMounts comes with all the necessary hardware, making it easy to be installed by one person in a concrete wall or wall studs. It's 2x6 in size and could carry 400 pounds in total. The material is powder-coated steel and is guaranteed to be top of the line after undergoing strict quality tests. Its buckle design comes with velcros, a detail that prevents it from falling. During installment, homeowners may customize it to their liking because of its flexible layout with various combinations and different stud spacing. This unit comes in either black or white, perfect for any garage aesthetic.
Sixth you have to check the lighting of your chosen space as well as your electrical needs. There's no need for harsh lighting but a good one is a must for a pottery activity. If looking for the ideal, the best will be ambient rather than installing spotlights.
Seventh, you need to check how close you are to the water source or how accessible it is. Working with clay and cleaning after the pottery session needs water. A rookie mistake is letting clay go down the drain that might clog the plumbing. Use a series of buckets for rinsing your hands and tools ready for pottery. A second bucket is for the rest of the particles left in your hands. You may opt to use a third bucket to rinse your hands for the final time before washing them in the sink.
Eight, you must check the ventilation. Gases are released when you fire away from the clay. For example, it's a no-no to use a kin in a closed space. Ask an HVAC professional to install a ventilation system. If you are mixing the clay yourself and/or using an airbrush, make sure you are wearing a respirator.