I

t's only a matter of days before kids knock on your door and go Trick-or-Treating. Even though these kids are just looking to collect treats, you wouldn't want them to be skipping on your house because it looks boring from the outside. Halloween is one of those holidays that you either go overboard or don't decorate your house at all.
But first, why do kids go trick-or-treating anyway every evening of October 31st? Kids knocking on doors and asking for treats has been a century-old tradition in many countries including the United States.
Halloween can be traced back to pre-Christian times where the Celts celebrate the Celtic festival of Samhain every October 21. The Celts believed that on this day, the dead return to Earth so as a welcome, the living would pay homage to them by lighting bonfires and offering sacrifices.
During the ninth century, rich families would give soul cakes to the poor who visit them in their houses and the poor would pray for the souls of their dead relatives in return. The poor were later replaced by children who asked for gifts in the form of money, ale, or food. Young people in Ireland and Scotland would dress up in costumes, knock on doors and perform a "trick" (a song, poem, or a joke) in exchange for a "treat."
Irish immigrants brought the tradition to the United States in the 1840s. Halloween pranks took over in the 1920s that people believed catapulted "trick-or-treating" as a tradition in the 1930s. World War II temporarily put it to a halt and it was during the postwar baby boomer times that the fame of Halloween was reclaimed. Trick-or-treating was one of the traditions that stayed. Today, statistics show that over $2.6 billion is spent every Halloween, marking the day as the country's second-largest commercial holiday.
So don't be a killjoy and make sure to prepare your house for Halloween. One area you could decorate is your home's garage. This is probably one of the only few days in a year that your garage can hold attention and be the house's eye candy.
Before decorating, the first step is to make sure there is ample space in your garage. You can only do this by organizing and decluttering the space. You may make use of the Fleximounts Classic 4' x 8' Overhead Garage Storage Rack (with Hooks) GR48-H. This storage solution is the type that is mounted on the ceiling, easily installed by following the product's step-by-step instructions and installation template. It is made of cold-roll steel that is of high-quality construction. Its weight capacity is up to 600 pounds while the adjustable height range is from 22 to 40 inches. It is waterproof, making it perfect for seasonal items. You may store anything high up the ceiling to free up the floor space for your Halloween display. This overhead storage also comes with four pieces of flat hooks (GRH1) and two pieces of utility hooks (GRH3), accessories that can be used to hang sports equipment and shovels, axes, cages, and yes, this time around, Halloween decor.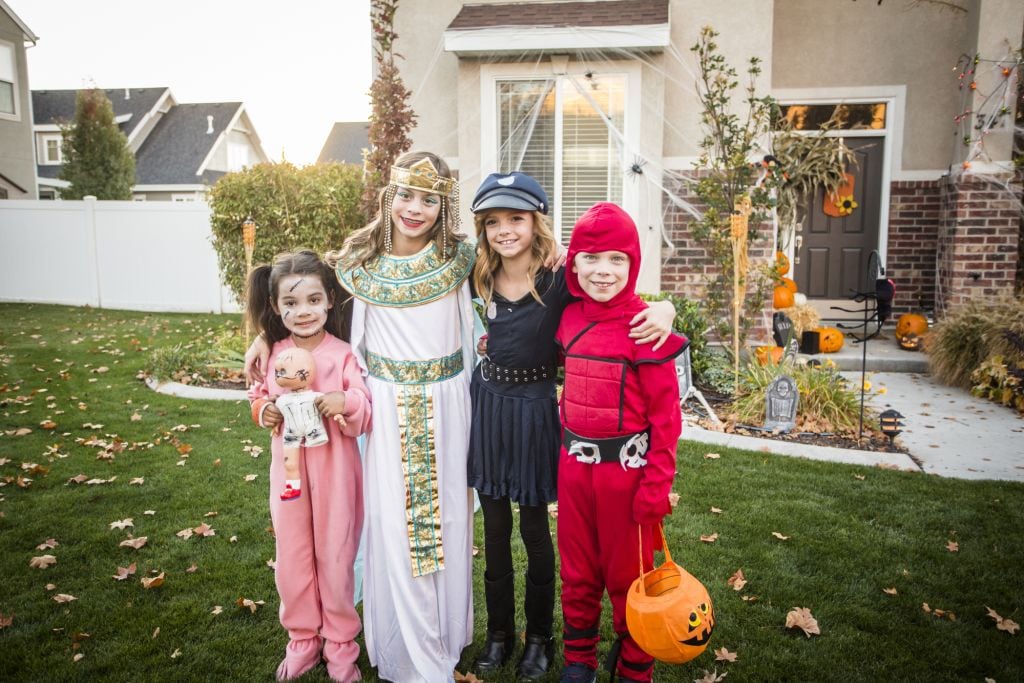 Here are some Halloween decoration ideas you may want to try sometime in the future.
1. Dark Room/Street.
Create an illusion of a dark street outdoors or a room inside by covering the garage with black plastic sheeting. You may hang this over literally anywhere including the garage door rails. Let your imagination run wild and fill the darkness with other Halloween elements such as spider cobwebs, witch brooms, hay bails, and twines, jack-o-lanterns, and the like.
2. Lighten up the garage.
Illuminate your garage space just enough to give a shadow and spooky effect to the final look of your garage. Lights can be placed inside a pumpkin or a skull. You may also experiment with twig lights, LED rope lights, luminaries, or even Christmas lights. You may also light up LED candles for more variety.
3. Scary Barn.
Transform. your garage into a barn by spreading hay on the floor, tying up some, and using bales for seating. Cut off vines from pumpkins and use rakes and shovels as props. And for the finale, make a scarecrow by dressing up a stick with farm clothes and a hat.
4. Make a fake fortune teller tent.
Craft a tent inside your garage, put a round table at the center, add spooky lights, a card deck, and of course, your glass ball. You'll dress up like an old witch whose way of luring people into the den is through fortune-telling. Add some sounds upon entry to the fake witch tent for maximum effect.
5. Paint your garage door with a big mouth.
First, cover it with newspaper or plain brown paper so that way you are not painting on your actual garage door. On top of the garage, add a scary headpiece and some eyes. Complete the face by painting over a mouth on the garage door so every time you open it, it would look like the head bursting with evil laughter.
6. Make your garage a mausoleum.
Cover the garage door with an insulated foam board. Divide the board into rectangular frames and create fake tombstones. Use gray paint for the background and black paint for the names of the deceased along with the days of their deaths. Put a table outside and lay a skeleton on top of it. You'll wear a skull mask yourself while being dressed in all black and with a shovel or rack by your hand.
7. Turn the garage into a haunted house.
Make everyone in the household participate by turning your garage into a haunted house. Cover everything with dark sheets and fill it with skulls, crosses, hanging ghouls, cobwebs, and fingers. Add a fog machine and play music to achieve proper ambiance. Next is to create a path in the garage where the visiting trick-and-treaters could follow. There should be blind spots where members of your household will hide from sight and spring out of nowhere once the haunted house has guests. If you are a natural prankster, you wouldn't have a problem scaring away those poor kids—but all for fun, okay!