S

pring is the perfect time to get organized. And when we say organized, we mean putting out all our items on the lawn to give the garage a space to breathe. The temperature is just right to take on the daunting task of cleaning the garage thoroughly.
Now, if the garage is giving you massive headaches due to its clutter and lack of space, then the cure may lie in the storage systems. Nothing is ever too narrow nor too small for an area that employs effective storage. And it also helps if you are not much of a hoarder and a sentimentalist (which, by the way, is the worst combination ever). All the things that must go should be let go. Do not dwell much on the idea that an item or tool can work with a bit of fixing because, to be honest, you would only spend more money on that, or worse, you might just forget about it and put it back in the storage.
Once you have gone through your stuff and decided on what to keep and bring back to the garage, the next step is to use effective storage. You do not need to look far, as Fleximounts is a brand that gives the best options for your space.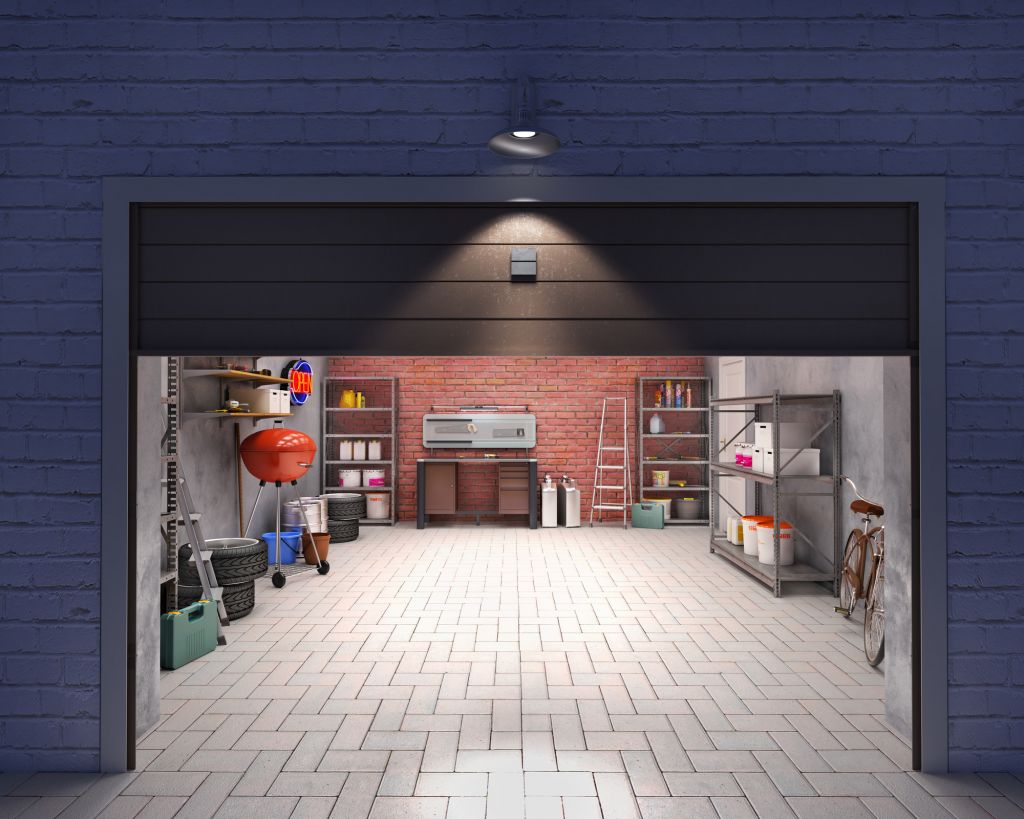 If you are still unsure about what to get, check out the list below of the garage storage systems we love this season.
1. For items that we use every day
Fleximounts WRC24B Corner 2-Pack 2' x 4' Wall Shelving
Priced at $179.99.
A way to free up space in the garage is by maximizing the walls. Moreso, if the storage system you will be using is one you can install on the corners of your walls. And this is why the WRC24B makes it into our list. The two-pack wall shelf can be used as a corner shelf or a two-layered shelf, whichever you think will work best in your garage. This feature is another thumbs up for us.
The heavy-duty and sturdy performance of the wall shelf is due to the material used, which is powder-coated steel. It is far from being wobbly, and this eradicates the fear that your items will fall off their storage. Each shelf can carry a maximum weight of 200 lbs.
The WRC24B suits and is compatible with either wood studs or concrete walls. Moreover, it offers easier assembly with its one-piece grid design, which offers excellent stability compared to other shelves in the market with multi-piece assembly. Also, assembling and installing this shelf is as easy as it gets as it is possible for a single person to get the job done. However, we still recommend that two to three people do the installation process to avoid any injuries.
Fleximounts has made it a point to make your life easier. All the hardware, bubble level, and installation templates are already included in the box. The bubble level helps get the perfect horizontal location, while the installation template helps with the mounting holes.
Furthermore, the Fleximounts WRC24B offers you to expand the storage by allowing you to hook on workshop tools, sports equipment, cleaning materials, and even your bicycle units. Just attach any of the following hooks available in Fleximounts' catalog: GRH1 or GRH2.
2. For bulkier items and seasonal items
Fleximounts Lift 4′ X 4′ Overhead Garage Storage Rack GL44B
Priced at $279.99.
Aside from the walls, another great space to maximize is the ceiling. Now, we know this is not a traditional storage system that we are used to, but it has been gaining popularity lately among garage owners. Because why not? The ceiling is mostly bare, except for a few lighting fixtures, fire sprinklers, or CCTV. The ceiling-mounted storage allows you to use the space wisely, which eventually frees up much-needed floor area in the garage.
One overhead garage storage that you should look into is the GL44B. What sets it apart from the other storage systems is that it can be lowered or raised using a crank or power drill (if you want a more seamless and smooth operation). Getting this extra and–we dare say–powerful feature removes the need for a ladder or any heavy lifting. It protects you from potential accidents caused by reaching heavy loads above the ground as it eases access to your items without using a ladder or any materials required to be stepped on. Moreover, it can carry a maximum weight of 300 lbs and lift a maximum of 108 inches vertically.
If you wonder how it works, the storage lift has a safe and secure mechanism–a specially designed safety lock prevents movement when not in use. However, you do need to worry that things might go awry when using the mechanism as the rack is made of heavy-duty steel cables, which secure the rack in place. Use the winding pole to pull out the safety lock on the gearbox, then push back in to lock after use.
The GL44B also boasts flexibility in compatibility with angled ceilings because of its adjustable length steel cable. Additionally, it is universally compatible with different ceiling joists of both wood joists and concrete ceilings–12", 16", and 24" ceiling joist spacing. But a word of caution–it does not fit metal joists.
Moreover, aside from its storage capacities, the Lift 4′ X 4′ Overhead Garage Storage Rack GL44B is designed for multiple uses, such as lifting hardtops, car top carriers, and kayaks with straps, and many more.
3. For projects and workshop items
Fleximounts WB107 Customizable Workbench Shelving Frame
Priced at $99.99.
As it has always been said, garages nowadays are not only used as vehicle parking and storing of items but also utilized as workshop space. For all the handyman works, metal works, or other activities you do, a garage is a place where you can practice them. As such, a heavy-duty and reliable workbench that can also serve as storage is one that you should invest in. The WB107 is a great product that you should look into.
The workbench is made of heavy-duty steel, making it possible to store twice the storage of traditional workbenches. Its iron-made workbench legs last for years. Plus, it has top-quality stainless steel screws. The workbench has a loading capacity of up to 100 lbs per shelf.
The WB107 can be customizable to suit your taste, and you can stain, paint or finish the wood as desired. The maximum dimension of the workbench is 96 inches in length, 48 inches in width, and adjustable in height. The workbench is flexible enough for multiple uses in the garage, such as assembling tables, potting benches, or even a home study desk.
4. For safekeeping of our bicycle units
Fleximounts BR1 Hanger Wall Mounted Bike Rack
Priced from $49.99 to $79.99.
The wall mount bike rack is made of high-quality materials. It is created from powder-coated, cold-rolled steel for durability, resisting rusting, chipping, and cracking. The racks available can hold one bike, four bikes, or six bikes. It can hold up to 300 lbs or 136 kg for the 6-bike rack. They are heavy-duty and long-lasting, can withstand years, and are dependable for load-bearing performance. It is perfect for cyclists who will take this lifestyle for a very long time. And of course, as you venture into cycling, a high chance would be to buy more bicycles that fit a particular activity. So this could mean the need for more storage space and durable storage racks.
The J-shaped hooks are easy to use as they fit perfectly to the curvature of your bike hubs, thus, providing a firm grip to secure the bicycles in their proper position. You need not worry about the hooks coming off the hanging bikes because each hook is mounted securely. And the good thing also is that the premium bike hooks are wrapped with thick sponge foam tubing, which prevents aging and cracking and offers better protection for your bike's hubs, spokes, and wheels.
The hooks can easily be re-positioned anywhere on the rack to suit different bicycle sizes as storage needs change. The bike wall mount hanger fits most bicycles (within the 2.56-in range in diameter), including mountain bikes, road bikes, and kids' bikes, but excludes wide-tire bikes.