All the clutter in your garage is driving you up the wall. But instead of letting your disorganized garage get the better of you, you can think smart with how you approach your storage. There are different ways to expand your garage storage. One of the most cost-effective ways is to use your walls and ceiling so that you can install overhead racks or shelves instead of leaving a pile of boxes lying on the floor. With a sound organization plan, clutter will eventually stop sprouting here and there. If you like the idea, let's go and make your garage tidier, safer, and more functional. 1. Figure out what you want to store and where to place them -- Before anything else, make a list of what you need to place on your overhead racks or wall shelves. For starters, you can place your miscellaneous items on an overhead steel garage rack since you don't need to use them all the time. The belongings that you always use can be deposited on your wall shelves. Create a system that makes sense to you but you can also follow Marie Kondo's style of putting like things together.2. Check your roof and walls -- You would need to properly install everything so that you won't worry about falling things that might harm a family member or damage your vehicle.
Make sure that the garage rack or shelf that you will be using are durable and can handle the weight of your things. For example, Fleximount's GR48F overhead garage rackis made of cold-roll steel and can carry about 600 lbs with ⅜ plywood or even thicker. You can also adjust its height from 22 to 40 inches.
Another thing to consider is the condition of your wall and ceiling. Are they made of drywall or concrete? Other questions include: Can they handle the storage system and all your belongings? And are you allowed to drill holes if you are renting your home?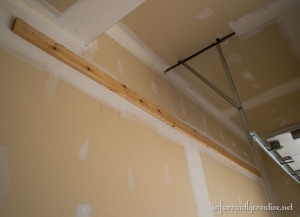 Source: https://www.infarrantlycreative.net/diy-garage-organization/
3. Let the installation begin -- If there are no obstacles to mounting the shelves and racks, it's time to bring out the driller, screws, hooks, brackets, and studs. Make sure to give your storage enough space in between each other so you have room to store big or dangling items. Also, think about flexibility as you might need to add more shelves or racks in the future!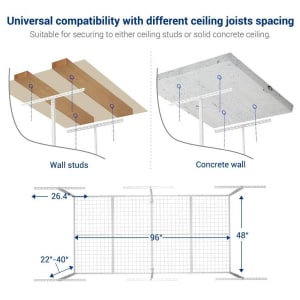 4. Label everything -- Now that everything is all set, don't forget to put labels on your overhead racks or wall shelves! This allows for quick access by any family member. There are several ideas for labelling -- go creative and systematic as you want! 5. Add hanging accessories if you want -- Hanging accessories will allow you to create a home for things that can be hung like sporting goods, lawn chairs, gardening tools, and even bikes. Reclaim your precious garage floor The battle for more space is not yet over until you say it's over! With this kind of garage storage system, you are already on the way to cleaning victory. All it takes is a little ingenuity to turn your garage into an amazing and serviceable space that you'll be proud of.