T

he winter blues begin to fade as the spring blooms enter the year. The temperature is at more tolerable levels, if not comfortably cool. And the trees and flowers adorn the surroundings. Spring is the best season to start getting active outdoors. And if you have a kid, this could be the best time to give him his two-wheel independence.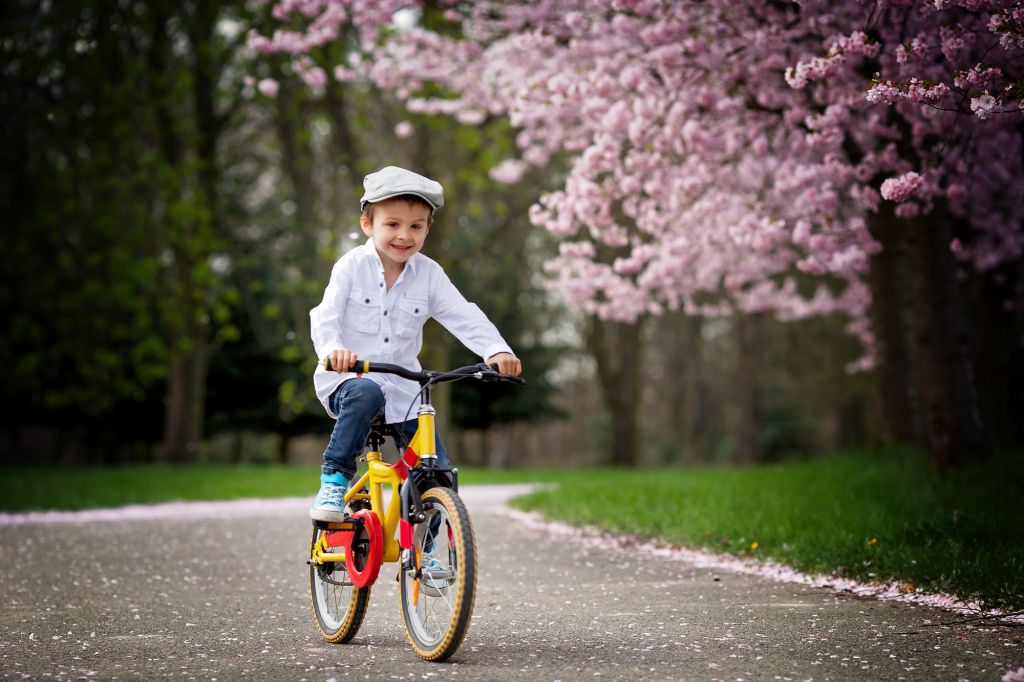 At what age should a kid start pedaling
Generally, kids start learning how to ride the bike from age 5 and up. But logically, age does not matter, they can start much later if the situation calls for it. As a rule of thumb, it is best to start teaching the kid to pedal when the child's mental and physical development, coordination, and comfort level are already deemed fit for the activity. Pedaling requires strength and balance, so physical fitness is a great factor. Plus, the mental capacity to overcome this hurdle of learning a new skill will be tested. Aside from that, if the kid does not express wanting to learn it even at the slightest hint, it is better not to push the kid into dealing with this now.
General rules to remember when teaching your kids
Part of the journey to learning the skill of riding a bike is the method that they were taught on. It should be, first and foremost, safe and enjoyable. Kids learn best when everything is fun. What you will teach will be absorbed better and faster when play is added. Build your child's confidence by cheering him on and acknowledging the effort he is exerting. Always pay attention to even the smallest detail like an unlocked helmet, small rock on the pavement, among others. Be patient. Nobody can learn a new skill all at once. Do not try to force and squeeze all the information into one session. Learning takes time and a great deal of patience. He didn't get to pedal right away? It's perfectly fine. With continued practice, he will eventually get it. It might also be a good idea to take a break in between. Have a snack or drink, or just talk freely with your kid. Then if you see that he is starting to regain his confidence and will to hop on the bike again, then come back to it. Each kid has his own pace. Remember that when it was your turn to learn to ride a bike before, it took time. Each kid has a different learning curve and may respond to a different method. It would be best to explore that so you can come up with a better and faster way to teach your kid.
Skip the training wheels
Riding with training wheels may have been the method that you were taught decades ago, while it can still work, it would be better to skip that part. Here is a better one: gliding.
The glide method does not need a special bike. Simply lower the seat so the kids can sit on the saddle with both feet reaching the ground. Teach them first to move distances with the support of their feet, as if walking normally. Then, instruct them to push off with their feet and glide on the bike. Repeat until they can safely balance for a few seconds. If you see that they can already move further distances while balancing, it is now time to add the pedals back and move the seat up. Then, teach them how to pedal correctly.
Now that there is an additional bike in your arsenal, you would be needing a proper bike storage in your garage. This can also motivate your kid to learn the skill of riding a bike by seeing his very own unit with those of the elders in the family.
Optimize the garage storage by utilizing the Fleximounts BR1 Hanger Wall Mounted Bike Rack. Storing your bikes in a vertical position frees up valuable floor space, which you can practically use for your cars or other storage needs. Aside from that, it also provides easy access to mount and dismount each bike. Thus, you can save your energy for the cycling activity of the day!
The wall mount bike rack uses only high-quality materials–powder-coated, cold-rolled steel–to ensure durability, rust resistance, chipping and cracking. The rack has options to carry one bike, four bikes, or six bikes. The six-bike stand can hold up to 300 lbs or 136 kg. They are heavy-duty and long-lasting that can withstand years, and are dependable for load-bearing performance. It is perfect for cyclists who will take this lifestyle for a very long time. And of course, as you venture into cycling, a high chance would be to buy more bicycles that fit a particular activity. So this could mean the need for more storage space and durable storage racks.
The J-shaped hooks are easy to use as they fit perfectly to the curvature of your bike hubs, thus, providing a firm grip to secure the bicycles in their proper position. You need not worry about the hooks coming off the hanging bikes because each hook is mounted securely. And the good thing also is that the premium bike hooks are wrapped with thick sponge foam tubing, which prevents aging and cracking and offers better protection for your bike's wheels, hubs, and spokes.
The hooks can easily be re-positioned anywhere on the rack to suit different bicycle sizes as storage needs change. The bike wall mount hanger fits most bicycles (within 2.56-in range in diameter), including mountain bikes, road bikes, and kids bikes. But this excludes wide-tire bikes.
Easy Installation
You don't need to be a pro to install the bike mount rack. The easy-to-follow step-by-step guide is made doable for novices out there.
Make a horizontal line and mark the mounting holes. Then drill holes and install the wall plates with tapping screws.

Pass the bike rod through the left wall plate.

Insert hooks from the right end of the bike rod in order.

Fix the left end of the rod with two screws. Then plug in the right end of the rod.