S

o we've heard that you want to go camping.
Have you already decided if you want to have all your gear in a backpack, hike and set up your tent in a remote destination? Or do you want to drive to a developed campground and have a much more comfortable setup where you can eat on picnic tables and be sure that the kids are safe? Or maybe you have an RV so that you don't even have to set up a tent anymore when you reach a campsite that allows RVs?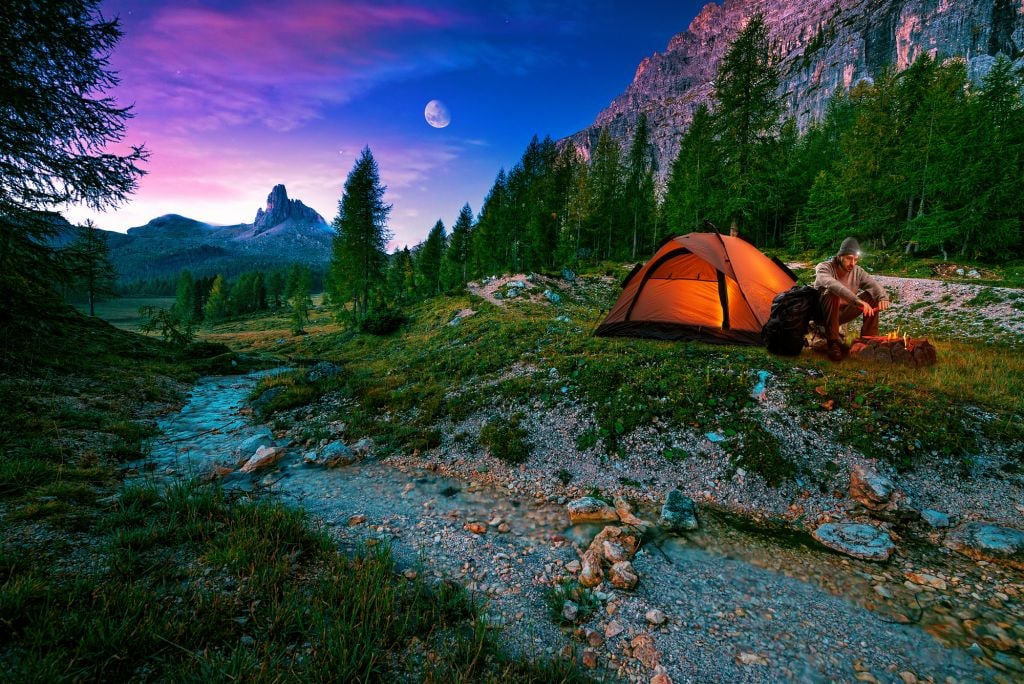 Whatever type of camping you choose, you must make sure that everyone in your company including yourself is safe and sound. After choosing the type of camping setup, researching your destination, and knowing what meals you will prepare, there are still more steps for you to follow in order to have that fun, well-thought-out camping trip.
Next on the list is to be prepared for any weather conditions.
The weather is a variable that is beyond your control. It doesn't mean that you aren't capable of preparing for the best and the worst weather conditions. If you ever get drenched in rain water when camping, you won't really be able to dry it off immediately or before your camping trip ends. When your clothes and your gear get wet, you can expect that your tent will be damped and you may have a cold, uncomfortable sleeping condition. Of course, research the weather forecast beforehand. If you don't have any date yet, choose a safe date where it's less likely to rain. But whatever the forecast is, bring a jacket that is waterproof and lightweight. It can ensure that your clothes inside won't get wet. You can consider wearing waterproof trousers and shoes too. Make sure to pack base layers that can keep you warm and a warm outer layer. advnture.com suggests to pack a fleece jacket which you can even use as an extra pillow when you're about to sleep. For car campers, you can bring a tarpaulin with you or a pop-up tent to help deal with rain and harsh sunlight.
Before you go on the camping trip, take time to try your gear out.
Make sure all of your gear works and that you know every step on how it works. It won't do you any bad if you practice how to set up your tent and check if your sleeping pad leaks air. You want to make sure that your headlamp has enough batteries too or is fully charged. If you haven't been using it or it's your first time to use it, make sure to check also if your camping stove is functioning well. Check how much fuel you have in it and if it will bne enough. Check your lighters and see if your first aid kit has everything you need. This might take up time but it will also save you hours and the hassle once you get to your camping site. Plus, you will have time to replace any gear or equipment that is not working properly.
And of course, when it's time for you to pack, you can make sure that you don't forget anything if you have a packing list. Write down everything you need based on the type of camping that you will do and what your chosen destination requires. You need your tent, camping stove, clothes and you must not forget also to bring your bug spray and headlamps. And to make sure that all of these fits in your bag, do not cram and pack ahead of your trip.
In camping, you would be using different gears and equipment. Since camping is seasonal, you would want to be able to use your equipment again the next time you decide to go camping. You can make sure that they will remain in good condition if you store them correctly. Here are FlexiMounts overhead storage racks where you can store your camping gear in an organized manner.
This classic product will offer you ample vertical support and longer ceiling brackets. It will prevent the shelf from falling from the ceiling because it is secured on the wall. Its weight capacity is 400 to 600 pounds and the height can be adjusted from 22 to 40 inches. It is made of cold-roll steel that is guaranteed to be of high quality after undergoing rigid tests. This is also a waterproof product that could avoid getting your products damaged from water. It could store seasonal items such as athletic gear you only use for winter or for summer. This comes with an integrated grid design that makes it stand out from others available in the market. This comes in black and white and you may choose from different storage spaces: 4' x 8', 4' x 6', 3' x 8', 3' x 6', and 2' x 8'.
If one of your worries is installation, don't worry because this can be easily installed by following the step-by-step manual and installation template that comes with the product.
GR48M PRO 4′ X 8′ OVERHEAD GARAGE STORAGE RACK
You are most likely to store heavy items which this overhead storage rack is good for with its weight capacity being up to 800 pounds. It is 4'x8' in size and its height can be adjusted from 22 to 40 inches, meaning it provides up to 150 cu. ft of storage. Made of cold-roll steel like the other products, it is also waterproof and has that signature FlexiMounts integrated grid design. It can also be easily installed, coming with the trusty step-by-step instruction and installation template. Everything will arrive in one box on your doorstep. You won't be afraid if it will fall from the ceiling because it comes with high quality screws and all the hardwares of this product has gone through strict quality tests. Note that this is compatible with joist spacing of less than or equal to 24".
GR48-H HOOKS 4′ X 8′ OVERHEAD GARAGE STORAGE RACK
Maximize safety and stability with this Amazon Best Selling product from FlexiMounts. It can carry up to 600 pounds of weight and is 4' x 8' in size. Its height can be adjusted from 22 to 40 inches and it is made of cold-roll steel. Again, it comes with a Step-By-Step instruction and installation template so don't worry too much about the installation process. It is also waterproof like the other products which makes it a great storage option for seasonal items that are mostly tucked away during the year. This will arrive in one box including accessories you may attach to it. You could attach four pieces of flat hooks or the GRH1 or two pieces of utility hooks (also included) or the GRH3. These hooks offer additional storage for your items.