F

eeling burned out lately? Is your work and home lifestyle seem to be a blur because of the current global health crisis? We have not gotten past COVID-19 yet and here is another surging health issue–the Monkeypox. Isolating yourself from crowds would somehow make you feel safe and secured, however, the lack of physical and social interactions add to our already burned out self.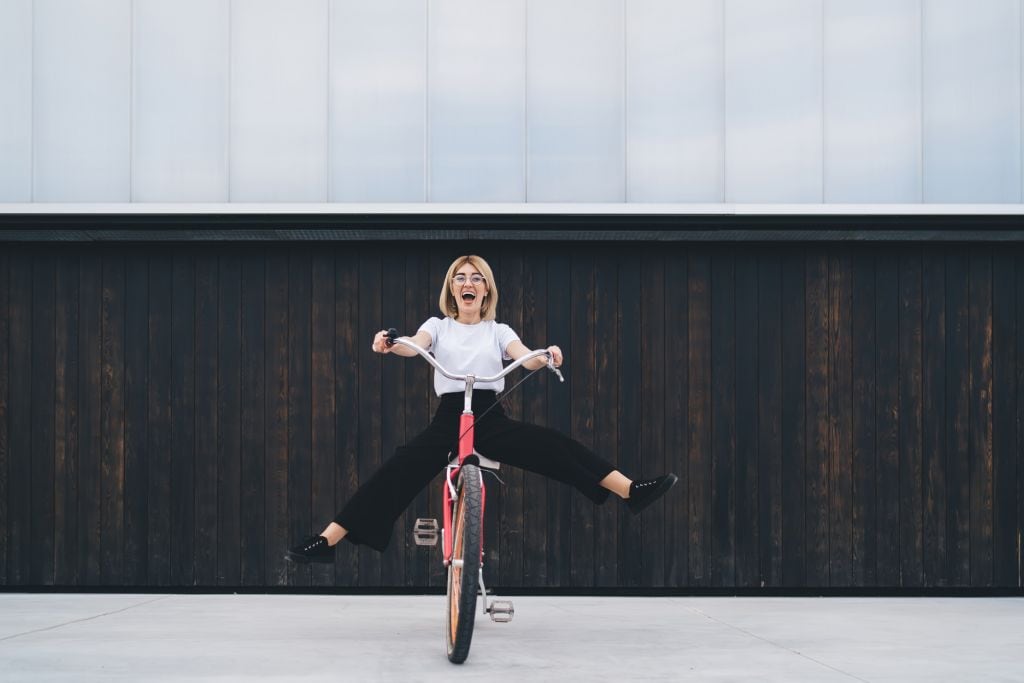 Your idea of relaxation may not seem to work its magic anymore. You have doom scrolled through countless Netflix movies and series, watched for a few minutes, and yet decided it is not the kind of show you would want to stick with. You may have played your favorite vinyl record or Spotify playlist, and yet the songs you used to vibe with have not given you the same pleasure as before. Or maybe you have called or video called with your friends and family. While it gave you momentary happiness, the feeling of loneliness creeped in after you bid goodbyes.
Maybe it is time to find another activity that could bring liveliness into your life once again. So, why not try cycling for a change? Cycling is a physical activity that nourishes the soul and strengthens the body. Now, more than ever, people have turned to cycling as a way of taking care of themselves holistically. You use your whole body when engaged with the activity, plus it is a safe practice to enjoy the great outdoors.
Savor every moment and sights that you get to experience. And no, you do not need to be an expert to enjoy an activity such as cycling. You should not feel pressured to be always on your A-game for you to enjoy a hobby.
Cycling can break your boring, daily routine, which may be one of the causes of stress and burnout. You get to explore more spaces in your neighborhood as you wake up early and buy your morning coffee at your favorite local coffee shop. You get to see hidden gems in your neighborhood as you traverse new routes everyday to work, if you are reporting on-site. You get to soak in Vitamin D, which helps you develop a positive mood to start your morning and hopefully stretches out for the rest of your day.
More Reasons to Start Cycling
1. Cycling helps maintain a healthy body
You use all forms of muscles when cycling, from arms to back to thighs to buttocks to core muscles. Because you use these muscles well, it ultimately helps circulate the blood in your body and strengthen the core muscles.
Activities like walking and running may give the same benefits as cycling provides, however, what sets apart cycling is that you can travel more distances with more ease as you do not carry your whole weight in your feet. Pedaling is a tad bit easier.
Cycling is good for the cardiovascular system, so much so that those who cycle regularly tend to acquire high blood pressure or heart diseases less likely. It also helps maintain a lean body because of its nature that it works almost every part of the body. You also prevent obesity problems as it is good for burning calories. Cycling raises your metabolic rate, builds muscles and burns fats.
2. Cycling helps boost brain capacity
Aside from working out your physical body, cycling is a good exercise for the brain. The activity requires quick reaction, decision-making skills, focus and concentration, and balance. Thus, people who cycle were "40 percent more likely to solve a puzzle than idle participants," according to a research conducted by Vanderbilt University.
More research found by the University of Illinois states that "a five-percent improvement in cardiorespiratory fitness from cycling led to an improvement of up to 15 percent in mental tests." It helps boost the memory capacity because it is an activity that allows creation of new brain cells in the hippocampus.
3. Cycling helps build inter- and intra-relationships
Cycling plays a major role in boosting your self-confidence because it teaches you to trust yourself more. With that earned confidence, it can also reflect in the way you interact with other people. And you are more open to forming bonds with strangers-turned-cycling friends.
As you dive deeper into cycling as a hobby, as well as your formed friendships with other cyclists, the group may plan cycling trips outside the neighborhood–for adventure and for making new memories.
Out-of-town trips are more enjoyable when you can also bring your bicycles with you. Imagine a change of scenery from your usual metro, high-rise buildings, and car traffic.
But the main concern is how to transport the bike to the destination. Unless you own a foldable bike or a pickup truck, it would not be a problem at all. However, subjecting your bicycle units by laying them out flat on the floor poses a danger to your bikes, especially if the road you will be traversing is rough. And if you are a family or a group of friends traveling, then the space would not be enough.
Investing in a sturdy and convenient bike hitch rack is the most plausible remedy that you can bank on. Now, transporting the bicycles would not be much of a hassle.
And one such bike rack that you can count on is the Fleximounts BRH4 Flexible And Foldable Bike Hitch Rack.
The Fleximounts Bike Hitch Rack Foldable BHR4 is as durable as you want it to be. It is a cold-roll steel structure with a protective powder paint finish. It has anti-wobble knobs to strengthen the connection between the mainmast and folding arms. It assures you that the build will securely fix the bike rack in place, which would be our biggest worry when on the road. Frequent glances at the back of our car would be lessened with this rack as you will be at ease with its performance.
The foldable bike hitch rack features a tiltable mainmast. The rack's body can swing up, down, forward, and backward, allowing more accessible bikes'' lifting. The rack pops back to its original position with the anti-wobble knob.
Moreover, its foldable arms are easy to move. So, when the rack is not in use, you can easily fold it back to safekeeping. Even if installed in your vehicle, the foldable arms would not get in the way.
The Fleximounts BRH4 Flexible And Foldable Bike Hitch Rack is compatible with different sizes of bikes, which is perfect for group outings and if you own multiple types of bicycles. The rack has adjustable straps that can hold up to four bikes, and it can carry a weight of up to 165 lbs.