I

t's 2022 and gone are the days that garages are just used as a parking space for your vehicles. Homeowners have used their garages as a fitness gym or as an events place. Some have been using it to make projects and start workshops. If you haven't done any of these, are you sure that you're only going to use your garage as a parking lot? It's an open space where you could do many things and you're still not going to consider using it for something else?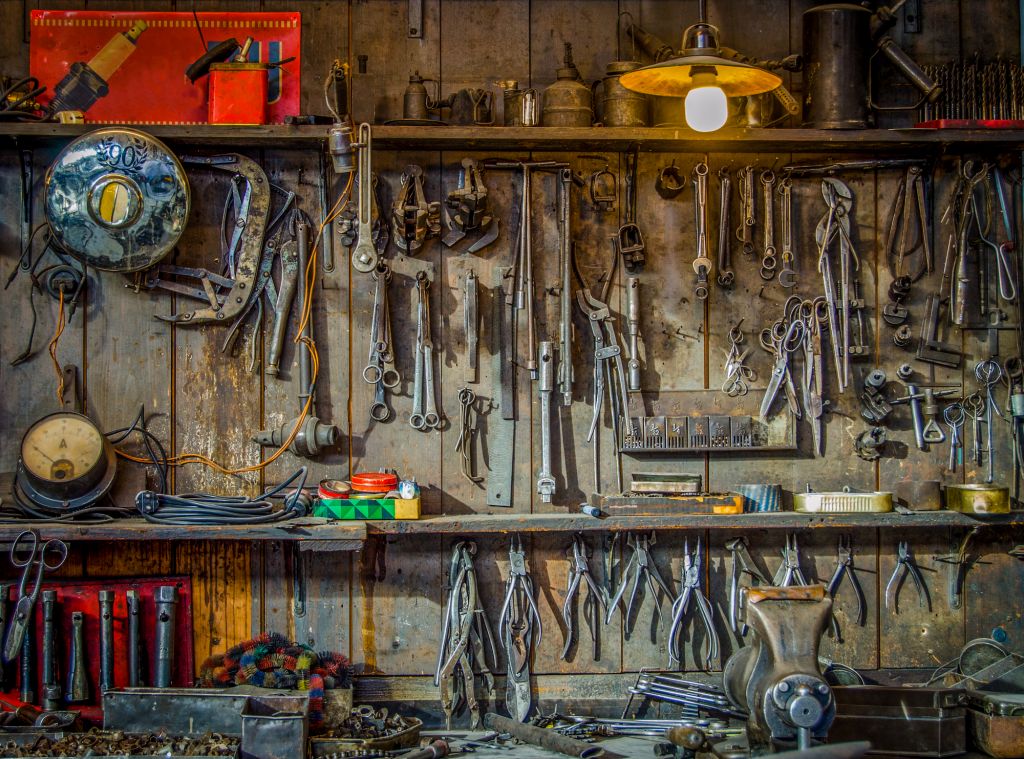 If you're feeling lazy, you don't really have to do any drastic changes with the garage for it to serve a different function. What you really have to do is organize the space based on the type of projects that you'll be undertaking for the garage to fit that profile.
We listed down below all the steps that you have to take to make your garage a functioning workshop this 2022. You could literally do anything in your garage, from woodwork projects to ceramic pottery crafts. You can also do some paint projects or wrap your gifts in the garage. Anything is possible once you start decluttering your garage and preparing it to be a workshop.
The first step is to take out all the items in your garage.
You have to lay it all out so that you could see an empty garage and decide what to do with it. With the items you laid out somewhere else, look at all the piles and assess which ones you'll keep, sell, donate or throw away. Host a garage sale online or in-person with the items you decided to discard.
The thought of cleaning your garage may already sound very overwhelming for you. It will take time to do, sometimes even stretching days to a week. After taking away all the items, you have to thoroughly clean your garage. Make sure all the dirt and grime are out even before you start installing storage solutions or doing upgrades for the garage. It is a heavy chore but once you are done with it, you can start planning the layout of your garage to accommodate the workshop that you want it to become.
The next step is designing your garage.
You are now one step closer to having that dream workshop of yours. You do not in any way need to make your own workbench, you can use a trusty one from FlexiMounts. If you are feeling handy and want to do one on your own, you can also do so if you want to.
When looking for a workbench that will be perfect for you, you have to check the following:
The durability of the workbench. Since you are going to be taking on simple to extreme garage projects, then you have to be sure that your work surface is durable. You will be hammering and pounding nails. You might use some heavy chemicals and tools which means you need a durable workbench that can withstand all of this.
The workbench's sturdiness. Aside from it lasting you for years, the workbench must also be stable and sturdy while you are using it. Buy something that is of quality and not something that is cheap but is wobbly or may collapse when you put a lot of stuff over it.
The material that the workbench is made of. Check what material is your workbench made of. It will ensure how stable and durable your workbench is. You will get something worth your buck if the material is sturdy, stable, and durable. You don't want to go back to the hardware store and get a replacement soon.
These are just some of the workbenches you may use from FlexiMounts:
CUSTOMIZABLE WORKBENCH SHELVING FRAME WB107
Price: $89.99 - $94.99
This workbench is made of heavy-duty steel and has a weight capacity of 1000 pounds. It has a maximum dimension of 96″ in length, 48″ in width, and adjustable in height. It uses top-quality stainless steel screws; lumber color and finish can be customized, and storage capacity can be expanded.
DURABLE WORKBENCH WITH BUILT-IN DRAWER WB201
Price: $259.99
Designed with high-quality craftsmanship, this durable frame can hold up to 3000 pounds. It is made of cold-roll steel, and its thick solid surface is made of 100% rubberwood. This solid surface is 1" thick wood sealed with varnish as protection against chips and scratches. It has a built-in pull-out drawer that serves as an integrated storage space for your utility tools and supplies. Its adjustable leveling feet will ensure the stability of the bench in areas with uneven floors.
The next step is to take care of storage.
You would need storage cabinets for your projects because you will most likely be using many tools. It's a workshop, after all! We listed down some guidelines that you could follow to plan for storage cabinets that you need for your garage to have.
At the moment, list down all the tools you have so you have an idea of how much room you need for the storage. Make sure as well that you leave room for items that you will be purchasing in the future.
Look at how big your space is for the workshop. Consider the area size on what storage style will best suit what you want your garage to be. There are many garage storage solutions for your tools. These include shelves, cabinets, hooks, pegboards, and tool chests. If you are working on a small area, maximize it by using the wall and ceiling space.
Make sure that the tools you use the most should be accessible. It's easier to move around in a workshop where the tools you need and always use are within reach.
The fourth step is to make sure you have lots of outlets available in your garage. You should also check if the lighting is enough for your projects. This is a very important part of your workshop so planning ahead is a must.
The last and fifth step is to take care of ventilation. Open windows or add a window fan. You may also install an exhaust or a ceiling fan. You will be working a lot in your garage and you need to have proper airflow and ventilation once it becomes your workshop.