D

o you want to start your life anew?
Are you going through a painful break up and you want a fresh start? Have you not felt yourself lately and want to take a breather? Did someone important pass away a few months ago and you want to start moving on?
Your relationship with someone might be going through a rough patch. You might have been feeling that you're stuck in a rut when it comes to your creativity. You might be feeling that your career is not going anywhere. You might just want something new to excite your life.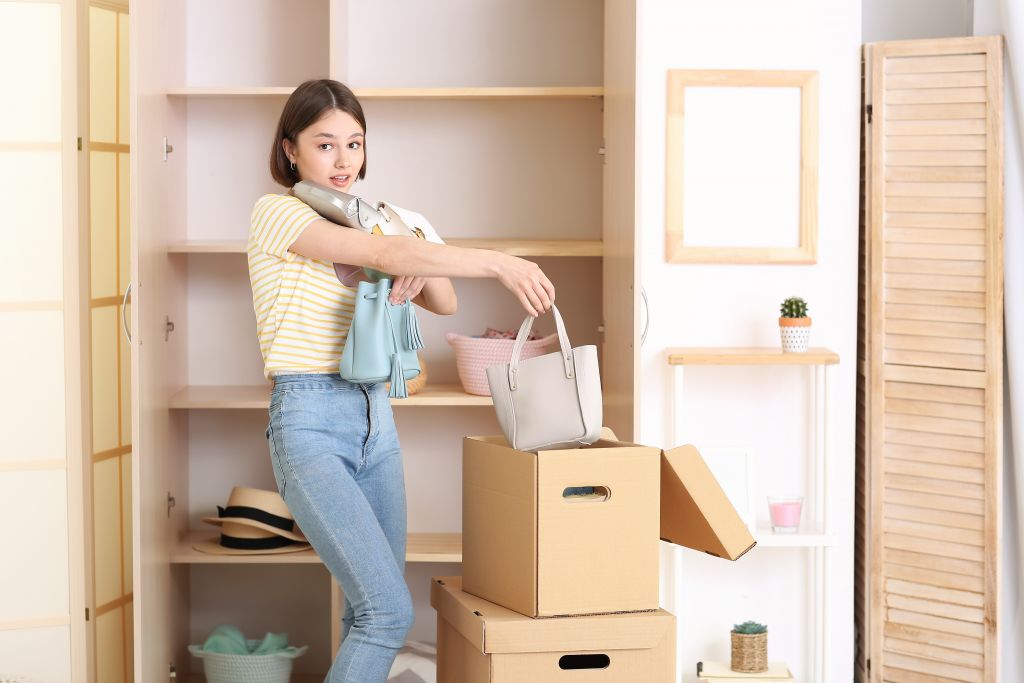 You don't always need to do something big and grand in order to reduce your stress. You don't always have to escape and just return and see that the problem is still there. You don't always have to run away because at some point, you'll get tired and you'd have to face it.
If you want to clear your headspace, change the way you think, or alter your perspective on what's making you anxious, you need to start doing. Force yourself if you have to. Nothing will happen if you just let things be the same way they are running their course right now. You need to do something to help yourself.
Why not start with decluttering? First, you'd be able to go through all your items and reminisce about the past. Face what you are scared to remember. Again, you can't always run away from it and when you confront these memories head on, that's when you gain power and regain control of your life. Second, organized space can have the power to clear your head. You'd be able to see things more clearly if your surroundings are clean. Third, after the thorough cleaning and organization, you'd feel that you're off to a good start with the change of environment.
When you clean your house, you won't be able to avoid discovering things that you have kept tucked for a long time already. You might decide to keep some of them because of their sentimental value, which means you would need a space where you could store these objects.
A perfect place to store items that you don't regularly use is the garage. You keep items here that you only use on a situational basis or some when it's the season to use them. But looking at the state of your garage at the moment, it might be full of clutter that you also have to clean it as well. Take a deep breath and don't get overwhelmed by the gargantuan pile of clutter before you. Do it step by step and after a day or two, you'll notice you're already done! We promise it's going to be a fulfilling process so don't give up just because it already looks dismal, to begin with. The next step to do is to install smart storage solutions in your garage so that all your items can be organized and made more easily accessible.
We listed down items here to maximize the space in your garage:
WRC24B CORNER 2-PACK 2′ X 4′ WALL SHELVING
It's not a problem if your garage has limited space. FlexiMounts offers this wall shelving product that makes use of corner space that can guarantee to optimize all vacant spaces in your garage. It can be used as a corner shelf or a 2-pack shelf. Like the other wall shelves and overhead storage racks from FlexiMounts, this item also features an integrated grid design. It's easy to install by one person because the package comes with all the necessary hardware. An installation template will also help locate where to mount the holes. You may install it in wood studs or a concrete wall. For additional storage, this is compatible with FlexiMounts GRH2/GRH2B and hooks GRH1/GRH1B.
Things stored in the garage are big and heavy so you need to get a wall shelf with a big weight capacity, those that are specifically for heavy-duty storage equipment. This product has a weight capacity of 200 to 400 pounds in total. It is of high-grade powder-coated steel that guarantees stability and security of anything you store inside of it.
When this arrives at the house, all hardware would be included in the package including a manual to guide you in installing this storage option. The design is the signature of FlexiMounts: a buckle design that comes with velcros to avoid anything from falling. It has undergone strict quality tests so you can be assured that it's made of top durable material. Buy this if you have wood studs and a concrete wall.
FlexiMounts also provide this with thicker screws, compared to other furniture stores that only use thinner screws. When checking out, don't forget to use the code, 7DD15, for the discount to apply to your order.
This product offers vertical support and longer ceiling brackets. It will prevent the shelf from falling from the ceiling because it is secured to the wall. Its weight capacity is 400 to 600 pounds and the height can be adjusted from 22 to 40 inches. It is made of cold-roll steel that is guaranteed to be of their belongings damaged from water. It could store seasonal items such as athletic gear they will only use for winter or for summer. This comes with an integrated grid design, a standout design from those available in the market. This comes in black and white and has different storage spaces: 4' x 8', 4' x 6', 3' x 8', 3' x 6', and 2' x 8'.
WS SERIES ADJUSTABLE 3-TIER WALL SHELVING
This is another space-saver that you'd want to be in your small garage. It features up to three levels of shelves that will provide the newly married couple with multiple storage compartments for their small garage. The brand boasts of a patent structure design where they won't be needing any tools to adjust the product. The weight capacity of this wall shelf is 300 to 450 pounds in total. They may adjust the height of each level according to their actual needs. It comes in two sizes that they can choose from: 1'x3' and 1'x4.' It is made of powder-coated steel that is guaranteed to be of high quality. Like other FlexiMounts' products, this can also be easily installed by one person. It is also compatible with use in wood studs or a concrete walls.