A

re you looking to shed those Thanksgiving pounds? Why not start weightlifting? Transform your garage into a training ground.
The back-to-back holidays starting from Thanksgiving to the Christmas season almost equate to overindulging in food. There is an abundance of food on the table, dinner invites, and restaurant reservations. And if those invitations are too hard to resist, maintain your figure and healthy body by working out in the gym, or even better, at home.
However, gym memberships are still hard to commit as the global pandemic's latest update has the new variant spreading quickly. So, as a healthier and more sound option, work out in the safest place, which is your own home.
Even according to a gym membership market analysis, two out of three people who own a membership do not use the workout facilities at all. And that would translate to an average of $39 of membership dues gone to waste. Imagine having to throw away that amount of money that you could have used elsewhere. Rather than spending a fortune on gym membership, create a workout area in your garage space specifically curtailed according to your needs. Save up to buy your own equipment that you can freely use anytime.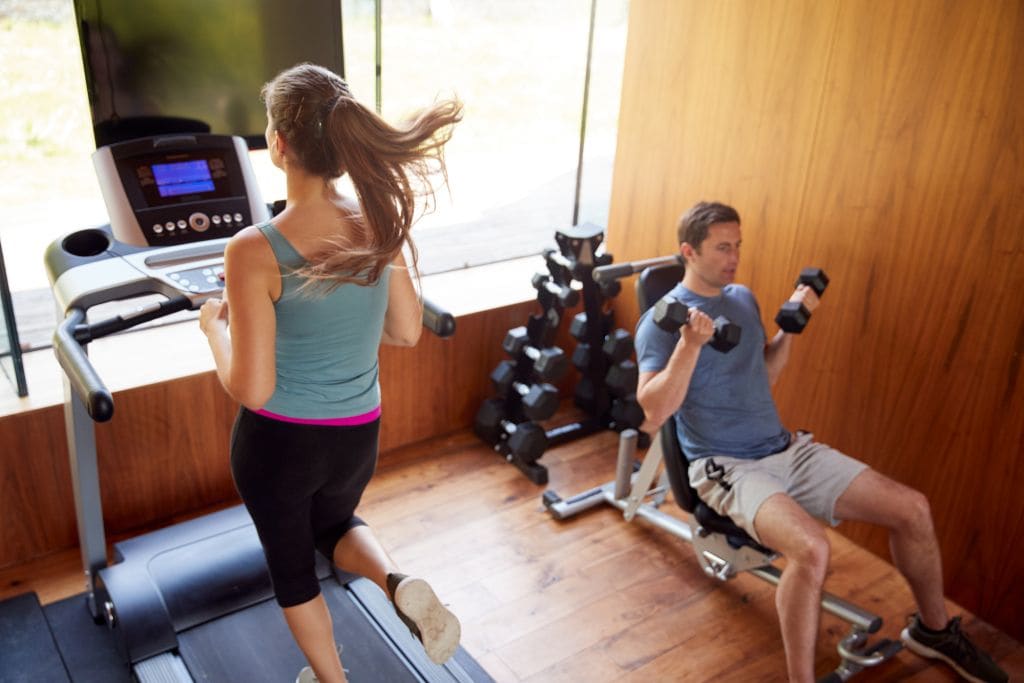 Garage as mini-gym
The first thing to do to prepare for converting the space as your home gym–even a tiny portion of the garage–is to organize and keep it clutter-free. You do not want tripping hazards scattered on the floor, especially when your mini-home gym has equipment like dumbbells and weights. Just imagining the scenario would send shivers down your spine.
If the garage-turned-gym still needs to be a space for storage, then you might want to consider installing overhead garage storage or wall-mounted shelves. These storage systems free up floor space while making your unused spaces such as the ceiling and walls more functional.
There is a wide variety of storage systems that you can utilize. One such overhead that you can use is the Lift 4′ X 4′ Overhead Garage Storage Rack GL44B. This storage lift removes the need for a ladder or any heavy lifting, protecting you from potential accidents. A crank or power drill can raise and lower it for a smooth and effortless operation. And it eases access to your items that are high above the garage floor without using a ladder. It can lift a maximum of 108 inches vertically and carry a maximum weight of 300 lbs.
The storage lift has a safe and secure mechanism–a specially designed safety lock prevents movement when not in use. Use the winding pole to pull out the safety lock on the gearbox, then push back in to lock after use. Moreover, the rack is made of heavy-duty steel cables, which secure the frame in place.
The GL44B also boasts flexibility when it comes to compatibility with angled ceilings because of its adjustable length steel cable. Additionally, it is universally compatible with different ceiling joists of both wood joists and concrete ceilings–12", 16", and 24" ceiling joist spacing. However, it is not fit for metal joists.
Aside from its storage capacities, the Lift 4′ X 4′ Overhead Garage Storage Rack GL44B is designed for multiple uses such as kayak with straps, lifting hardtop, car top carrier, and many more. You can also use this feature design to lift gym equipment and other exercising equipment that you own.
Aside from the neat organization of the garage, you must also prepare for the insulation system, especially during cold seasons. Temperature plays an important role when exercising as it affects your body. Even if you do not mind lifting in a freezing garage, adding a space heater and insulation is always the better idea.
Basic workout equipment
Once you step into a store selling gym equipment, you may be overwhelmed with the plethora of choices. But hold your wallets, you do not need to buy everything all at once. List down the basic equipment you need when first establishing your own home gym. Do not worry, because as you progress with your home workouts, then you will realize what you still need to add to your arsenal.
For starters, buy a set of dumbbells. This gym equipment's primary goal is to help you build size and strength. There is a wide variety to choose from for adding strength and increasing lean muscles. Take into consideration buying various single sets in different sizes or an adjustable set. Weight machines are also a good option, however, the only downside is that these restrict movements. That is compared to dumbbells where you can perform several exercises. A single dumbbell can focus on one leg or arm or at a time. This is in preparation for lifting heavier barbells in the future.
Next, another simple workout tool that you can use in your garage is a battle rope or training rope. It is a piece of all-around gym equipment to train the muscles in your arms, abs, glutes, and back. It is excellent for exercises targeting the full body. Battle ropes increase your shoulder mobility, work different muscles and build up your endurance. By alternately waving the two ropes, one in each hand, the battle ropes improve your hand grip. You will also notice how each side of your body handles the pressure and strength as you perform the exercise. Add more intensity to the workout by incorporating lunges, jumps, lateral movements, and squats.
Add into the mix of your gym arsenal barbells. This gym equipment is a metal bar loaded with weights on the opposite bar ends. Some barbells have pre-made and fixed weights, while some are adjustable. We suggest buying the adjustable types for your convenience. Lifting barbells develops the nerves and muscles in the areas you need to work on. It is helpful in achieving the desired body strength.
Another piece of equipment you can invest in is a bench press. It can partner for positions other than lunging or standing while training with dumbbells and barbells. Bench presses tone the upper body muscles, such as arms and shoulders, and it aids your weight-training exercises in improving your muscular endurance, upper body strength, and bone health.