Getting It Sorted! When it comes to sorting out your garage storage, one factor that many consider being a big problem is storing large items that may be eating up valuable space in your garage. Whether it's seasonal outdoor materials, workout tools, or even an old washing machine, everyone seems to have those annoying large items that eat up and take over your space. In this article, we'll be exploring 3 simple tips that you can try out to ensure that you make more of your space and store those large items in a smart and efficient way. From simple organization habits, you can work on to finding the right tools, sorting your large items doesn't have to be such a big problem- both literally and figuratively! Before we get into our top 3 tips, always remember that sorting your large items is all about ensuring your safety and optimizing your space. By sorting, organizing, and ultimately optimizing your space, you ensure not only a better space for you but a space that works for you and your needs! Separate, Arrange & Optimize When it comes to organizing your space it's getting started that's always difficult, especially if it's been a while since you actually took a look at what you've hidden in there! For our first tip on organizing your garage storage, we'll be taking a well-loved and often used piece of advice from Marie Kondo. Her tip for starting your journey to a more organized space is by first taking out all of your things from the space and identifying what's trash and what you need to keep. While this may seem intimidating with larger items, the trick is identifying whether or not your large items are really needed. Change your perspective on the larger items, often we view them as automatic fixtures in our spaces. Ask yourself if the item sparks joy, if it doesn't it's probably time to throw it away or sell it. This allows you to keep the things that matter. After you've seen what you'd like to keep and what you'd like to throw away, it's time to arrange your things based on how often you use them. Move seasonal items like decorations and outdoor gear to space and bring forward the items you use more often like your power tools and gardening materials, by seeing all your items arranged based on use, you have a better idea of how you can organize your garage space based on need and have it optimized for use.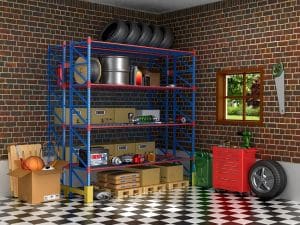 Tools & Tricks Now that you have an idea of what you're working with, the next step is to use some simple tools and apply some easy tricks to allow you to arrange your garage storage better. Start with your most used items before moving on to your larger items. Use hooks to hang up your tools or gardening materials for easier access and to maximize your vertical space. You not only make things easier to use, you also end up creating more space in your garage. Pegboards and bin organizers are another great option to help aid your organization. By focusing on your smaller items first, you'll have a better idea on how and where to organize your garage storage to work for you!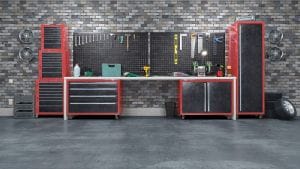 Overhead & Underrated Space Now that we've covered how to arrange the majority of our items in the garage, it's time to tackle those big items we've been dreading. While you can opt for heavy-duty shelves and cabinets, not everyone has the space for it. When it comes to your garage storage, I bet you never considered storing your heavy items overhead! With the use of the right heavy-duty garage racks, you can make the use of your underrated overhead space! Not all garage racks can handle heavy loads. Not like the FlexiMounts GR48F. This amazing overhead rack can handle heavyweight of up to 600lbs, that's the weight of nearly five average-sized adults! With an affordable price and an unconventional overhead design, you can store your heavy items without sacrificing space or making your wallet ache!
You've Got This! When it comes to arranging your garage and your large items, don't let yourself be intimidated. All you need is the right mindset and the right tools. Let your space work for you and give yourself the garage that you deserve!