A

general question asked regularly is, how often should you give your bicycles a good scrubbing? Regular maintenance may mean monthly for road bikes, every 20 rides for mountain and cross bikes, or really, depending on the usage. The more you go on muddy and dusty roads, the more frequently you should clean your bikes as the parts will begin to deteriorate when exposed to these conditions.
Most specks of dirt come off by carefully wiping using a damp or dry rag. Other parts, however, require scrubbing and brushing. Also, be careful when washing with water. Using a high-pressure hose can damage other sensitive components of the bike.
Aside from the thorough cleaning, give your bikes proper lubrication. The moving parts of the bikes may wear out quickly due to friction, so lubricating them well is crucial for good performance. Additionally, it prevents rust and corrosion from building up and freezing up. However, as a general rule, wipe off excess lube. Over-lubricating may damage the components of the bike as it attracts dirt and abrasive particles.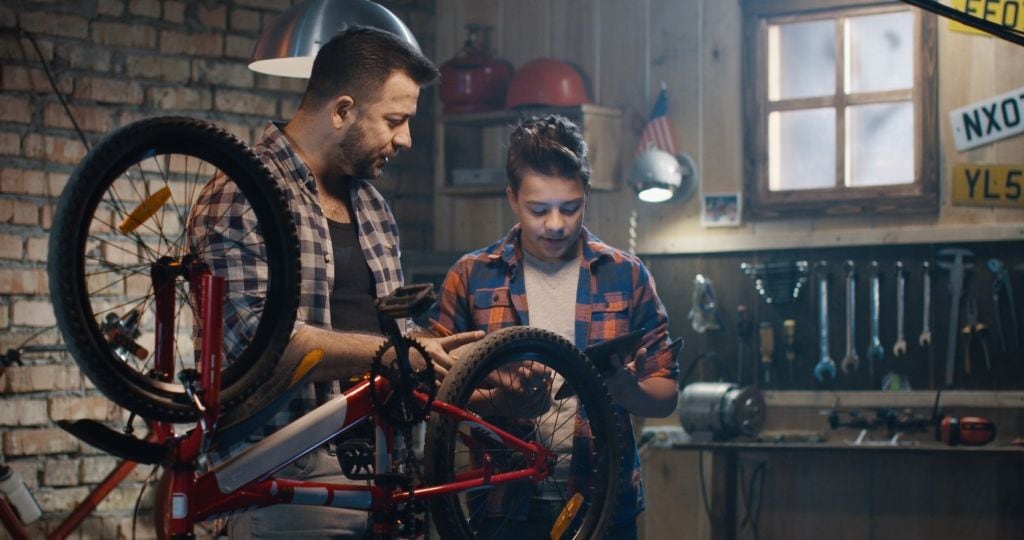 How to clean your bike
Start with your bike frame. Wash with warm soapy water. Then, gently scrub off dirt and grime. Rinse all the parts with clean water. Dry the bike by wiping it with clean, dry rags.
Next would be cleaning and lubing the chains. Use a rag and degreaser if there isn't much dirt. If the chains are really dirty, use a chain-cleaning device. Slowly apply drops of lube onto the chain, then let it dry. Wipe off any excess lubricant. Lubricate the chains if they squeak or appear dry or after wet rides to prevent rusting.
Apply lubricant to the brake, derailleur cables, derailleur assemblies, lever pivots, and barrel adjusters as well.
How to properly store your bikes
The constant check-ups of the bicycle's condition are a must. However, no matter how much cleaning and beautifying you do to your bikes, if not kept properly, then all the effort put into it is gone to waste.
More than buying accessories that protect our bicycle units, or heck, beautifying them, there are two essential accessories that we tend to overlook. These are foldable bike hitch racks and wall-mounted bike racks.
When doing destination rides and uphill rides, often, you want to reach the destination via car travel and only hop on the bicycle when you arrive at the area. Although cycling from home is also a feasible option, it is not always the most convenient path to take. So, if you are taking a car with you, bringing your bicycles will be a lot easier if you have bike racks that you can utilize. Imagine traversing long distances and off-roads. Having bike racks attached to your car eases the hassle of dismantling the bike or even subjecting it to rough conditions, which will only damage your unit. Moreover, if you plan to travel with companions who are also cyclists, the bike racks can handle more than one unit without having the bicycles bump into each other.
And when your bicycle units are not in use, a garage bike rack is at your disposal. Having to secure a spot for your bikes in your garage that is also used as vehicle parking and storage of items, a sound storage system allows everything to fit in the space. Make no mistake in choosing a bike rack that uses more valuable floor space. A better and more logical idea is to use a wall-mounted bike rack. Not only does it save space, but it also guarantees safekeeping.
Fleximounts Bike Hitch Rack Foldable BHR4
The bike rack is as durable as you want it to be. It is made of a cold-roll steel structure with a protective powder paint finish. It has anti-wobble knobs to strengthen the connection between the mainmast and folding arms. You are assured that you can firmly or securely fix the bike rack in place, which would be our biggest worry when on the road. Frequent glances at the back of our car would be lessened with this rack as you will be at ease with its performance.
The foldable bike hitch rack features a tiltable mainmast. The rack's body can swing up, down, forward and backward, which allows easier lifting of bikes. The rack pops back to its original position with the anti-wobble knob.
Moreover, its foldable arms are easy to move. So, when the rack is not in use, you can easily fold it back to safekeeping. The arms won't also get in the way even if they are installed in your vehicle.
The Fleximounts Bike Hitch Rack Foldable BHR4 is compatible with different sizes of bikes, which is perfect for group outings and if you own multiple types of bicycles. The rack has adjustable straps that can hold up to four bikes, and it can carry a weight of up to 165 lbs.
Fleximounts Hanger Wall Mounted Bike Rack BR1
The wall mount bike rack is made of high-quality materials. It is created from powder-coated, cold-rolled steel for durability, resisting rusting, chipping, and cracking. The racks available can hold one bike, four bikes, or six bikes. It can hold up to 300 lbs or 136 kg for the 6-bike rack. They are heavy-duty and long-lasting that can withstand years, and are dependable for load-bearing performance. It is perfect for cyclists who will take this lifestyle for a very long time. And of course, as you venture into cycling, a high chance would be to buy more bicycles that fit a specific activity. So this could mean the need for more storage space and durable storage racks.
The J-shaped hooks are easy to use as they fit perfectly to the curvature of your bike hubs, thus, providing a firm grip to secure the bicycles in their proper position. You need not worry about the hooks coming off the hanging bikes because each hook is mounted securely. And the good thing also is that the premium bike hooks are wrapped with thick sponge foam tubing, which prevents aging and cracking and offers better protection for your bike's wheels, hubs, and spokes.
The hooks can easily be re-positioned anywhere on the rack to suit different bicycle sizes as storage needs change. The bike wall mount hanger fits most bicycles (within 2.56-in range in diameter), including mountain bikes, road bikes, and kids bikes. But this excludes wide-tire bikes.